By DARREN MILLER
hawkeyesports.com
IOWA CITY, Iowa — It was great news and terrible news when Jeff Petersen learned that his son was getting married. Of course he was thrilled that one of his children would spend the rest of his life with someone wonderful.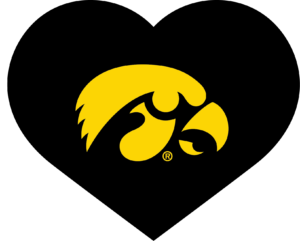 "But the wedding was scheduled during an Iowa home football game," Petersen said. "His sister and I told him, that's fine, we'll make it to the reception."
Petersen was joking (sort of) and did attend the wedding, even though it conflicted with the North Texas-Iowa game inside Kinnick Stadium.
"Like most people, I bleed black and gold," said Petersen, who lives in Gowrie, Iowa. "I grew up in an area that is Clone territory and I took years of abuse from the Cyclones. Three of my four children are Iowa grads. My fourth stabbed me in the back real good (and earned an undergraduate degree from Iowa State), but she lives in Tiffin and is currently in a master's program at Iowa."
Petersen's aunt, Virginia Anderson Currey, attended the University of Iowa, so after graduating from Prairie Community High School in 1972, he followed that path, also majoring in political science. His days as an undergrad from 1972-76 marked the only time he did not live in Gowrie. A treat as a child was making the drive to Iowa City for a game.
"It was before interstate was built," Petersen said. "If you can imagine driving Highway 6 all the way from Des Moines."
There was an added plus to being a student at Iowa from 1972-76, Petersen said. It had to do with drinking age (18) and being able to bring coolers into Kinnick Stadium (seriously, it happened).
"There are so many things that have gone on at games, some of them I wouldn't dare tell you," Petersen said.
"There are so many things that have gone on at games, some of them I wouldn't dare tell you."

Jeff Petersen
In 1973, the Hawkeyes were winless.
"Have you ever sat through an 0-11 season? That's painful," Petersen said. "But back then we had a band they let have fun, so you went to watch the band."
When fans are allowed back into Kinnick Stadium, Petersen offers a marketing proposal that has to do with the band — specifically trumpets. He calls the idea Trumpet Time.
Step 1: When football season ticket renewals are sent, inquire if anyone is adept at playing trumpet.
Step 2: Give the trumpet-playing season ticket holder a certified letter allowing him/her to bring a trumpet into Kinnick Stadium on game day.
Step 3: Have a trumpet player in every section of the stadium.
Step 4: The designated ticket holder/trumpeter plays only when the university allows.
"You will have trumpet time where each of those people scattered throughout the stadium leads the crowd in the fight song," Petersen said. "I think that would be awesome."
(Editor's note: At this point, no artificial noise makers are allowed at Big Ten venues.)
If anyone knows trumpets and tailgating, it's Petersen. His wife, Julianne, is known as the Trumpet Lady. She has entertained Hawkeye fans for years at bars, outside stadiums and even on Interstate 80.
When Jeff and Julianne first met, she was able to smuggle the trumpet into Kinnick Stadium. During the game she excited fans in Section U in the southeast corner.
"We were careful not to interfere with the band which was down to our left," Jeff said. "Julie would lead the fight song."
She has played in a Dave & Buster's in San Antonio, for Des Moines television station Channel 13 while attending the Insight Bowl in Tempe, Arizona, and at the rest stop in Grinnell, where Jeff says "She will blast over the interstate. Of course the place is full of Hawkeyes."
After college, Petersen purchased his father's 7,000 square foot grocery store in Gowrie and operated Jamboree Foods until retiring two years ago. Julianne is a retired teacher who still substitutes.
As for favorite games, Petersen points to Ron Hawley crashing into and snapping the wooden goal post at Michigan State in 1982 as well as the 55-24 victory over No. 3 Ohio State in 2017.
Petersen is easy to spot when he arrives in Iowa City on game day. He drives a 2010 "Hawkeye gold" Mustang. Like most Hawkeye fans, he is eager to make the journey to watch an Iowa game in person.
"It is the only year Ford put out an Old Gold-colored car," Petersen said. "I can't wait until next fall when I can come to a game again."