By JAMES ALLAN
hawkeyesports.com
IOWA CITY, Iowa – Senior Chauncey Golston's sack and Zach VanValkenberg's fumble recovery late in the fourth quarter sealed the University of Iowa football team's 26-20 victory over Nebraska in the Heroes Game on Friday inside Kinnick Stadium.
After Keith Duncan's 51-yard field goal hit off the cross bar, Nebraska took over at the 32 yard-line with 2:02 remaining. The Huskers picked up two first downs, setting up a first-and-10 from the Iowa 39.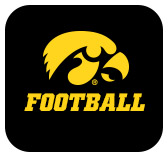 On the next play, Golston blew past Husker right guard Matt Farniok, knocking the ball free from Adrian Martinez. VanValkenberg recovered the fumble in mid-air at the Iowa 48 to seal the Hawkeyes' sixth straight victory in the series.
Iowa has won four straight games to improve to 4-2 this season.
Nebraska out-gained Iowa, 338-322, in the game and the Huskers had advantages in both passing (195-193) and rushing (143-129) yards, but the Hawkeyes had a nine-plus minute advantage in time of possession.
Sophomore Tyler Goodson paced Iowa's rushing attack with his fourth career 100-yard game. He finished with 111 yards on a career-high 30 attempts.
Sophomore Spencer Petras completed 18-of-30 attempts for 193 yards with one touchdown – a 6-yarder to Tyrone Tracy, Jr. Sophomore Sam LaPorta had a team-high five receptions for 38 yards, while seven different receivers caught passes.
Defensively, senior Nick Niemann had 12 tackles, while senior Matt Hankins made nine stops (six solo). Iowa finished with three sacks – by Daviyon Nixon, Seth Benson, and Golston – and seven total tackles for loss.
Martinez finished 18-of-20 for 174 yards to lead the Huskers, while Wan'Dale Robinson and backup quarterback Luke McCaffrey both had 42 rushing yards. Robinson also had a game-high nine receptions for 75 yards.
Quoting Head Coach Kirk Ferentz
"First and foremost, I am thrilled to get the victory today. It was a hard-fought game, a conference game. You're talking about a rivalry game, too, with the trophy on the line. This is three straight years now where it ha gone down to the last play, last minute.
"Both teams played at a high level. I am proud of our guys. They played resilient. We had some ups and downs during the course of the game and it wasn't 100 percent perfect, but that's what you expect in conference play.
"I think the biggest, most significant thing is just the way we finished the game. They came out and scored on that opening drive in the second half. After that, we settled in. I think we won 13-0 from that point on. It was close to being 16. If we come up with that last field goal, I think we all breathe a little bit easier, but it wasn't meant to be.
"It was a great effort, but it hit the bar. We had to go play defense and it rose to the occasion. I am thrilled to get the victory and thrilled to see our guys with the trophy. Even better, we get a day off tomorrow. It's a pretty good day for us."
How It Happened
The Hawkeyes took the opening kickoff and drove 54 yards over seven plays to grab the early lead. Senior Shaun Beyer made a one-handed snag for 22 yards to move Iowa into Nebraska territory and Ihmir Smith-Marsette had a 14-yard completion on the next play (and a personal foul penalty on Nebraska tacked on 15 more). Iowa moved to the 14 before Duncan connected on a 32-yard field goal to make the score 3-0.
Charlie Jones set up Iowa's second score with a 31-yard punt return, giving the Hawkeyes starting field position in Nebraska territory. Petras had two completed all four of his passes on the drive, including a 13-yarder to Brandon Smith, 14 yards to Smith-Marsette, and a touch pass to Tracy, Jr., for a 6-yard touchdown to push Iowa's lead to 10-0 with 1:09 left in the opening quarter.
Nebraska inserted McCaffrey into the game on the final possession of the first quarter and he drove the Huskers 62 yards over plays. McCaffrey opened the series with a 13-yard pass to Travis Vokolek before rushing for 21 yards to the Iowa 36 on a designed run. McCaffrey ran for 9 yards on fourth-and-1 before the drive stalled at the 14, forcing Nebraska to settle on a Connor Culp 31-yard field goal.
The Huskers kept the momentum when Dicaprio Bootle intercepted an ill-advised Petras throw into triple coverage and returned it 2 yards to the Iowa 42. Nebraska went 18 yards on a Alante Brown reverse on the first play before gaining three yards over the next three plays. Culp cut the deficit to 10-6 on Culp's 39-yard field goal.
Iowa pushed its lead back to seven points with a 12-play, 55-yard drive. Goodson had a 13-yard run into Nebraska territory before Petras hit Smith-Marsette for 16 yards to the 33. On third-and-10, the Huskers committed a pass interference penalty, moving Iowa to the 22. Iowa got to the 15 before electing to settle for points on fourth-and-3. Duncan's 33-yard field goal pushed Iowa's lead to 13-6.
With Martinez back at quarterback, the Huskers drove 75 yards over 11 plays for a game-tying touchdown. The Huskers got a big play – a 28-yard screen to Robinson – on the second play of the series and another 22-yard pass to Robinson converted a third-and-7 from midfield. Nebraska lost 19 yards on a snap over Martinez's head on the next play, but the back-breaking play came when the Huskers converted a third-and-23 with a completion to Austin Allen while tip-toeing the sideline. Three plays later, Martinez scored from 1-yard out to tie the game at 13.
The Huskers marched 70 yards over eight plays and didn't face a third down to take a 20-13 lead. Martinez completed passes to Levi Falck (13 yards) and Zavier Betts (15 yards) to move Nebraska into the red zone and Rahmir Johnson covered the final 17 yards on a pair of rushes, including a 12-yard touchdown run to make the score 20-13.
Iowa answered with a 14-play, 66-yard scoring drive to tie the game at 20. The Hawkeyes went to their rushing attack, gaining 40 yards on nine attempts. Petras converted a third-and-8 with a 16-yard completion to Nico Ragaini into Husker territory and he had back-to-back 5-yard completions to Sam Laporta, including one that came on fourth down. Senior Mekhi Sargent scored from 2-yards out to tie the game with 5:47 left in the quarter.
After forcing a quick three-and-out, Iowa used an eight-play, 30-yard drive to regain the lead. Petras hit Beyer for 10-yard for a screen into Nebraska territory before five rushes moved Iowa to the Nebraska 30. Iowa let the third quarter expire – to get the wind – and Duncan drilled a 48-yard field goal to give the Hawkeyes a 23-20 lead with 14:55 left.
After trading punts, the Hawkeyes were the beneficiaries of a Husker miscue to notch their first turnover. Nebraska forced a three-and-out and a Hawkeye punt – a 46-yarder by Tory Taylor – but the Huskers' Cam Taylor-Britt muffed the punt and Iowa's Terry Roberts recovered at the Nebraska 38.
The Hawkeyes moved to the 22 on consecutive Goodson rushes. After Nebraska's defense held, Duncan converted a 37-yard field goal to extend Iowa's lead to 26-20 with 8:21 left.
Iowa took over at its own 35-yard line with 5:37 left and drove 33 yards over eight plays, moving the ball to the Husker 32. Nebraska stayed alive when Duncan hit his 51-yard field goal low and it bounced off the cross bar to give the Huskers possession at their own 32 with 2:02 left.
Individual Notes
Sargent's 2-yard touchdown rush in the third quarter was his 20th career rushing touchdown. He is the 11th player in program history to have 20 or more rushing touchdowns. He has seven rushing touchdowns this season (1, 2, 6, 14, 1, 1, 2), and six in the last four games.
Nixon had eight tackles, including 3.0 tackles for loss. He entered the game with 8.5 TFL, second in the Big Ten.
Goodson rushed for 111 yards on a career-high 30 carries (he had 11 carries for 24 yards at halftime). It is his fourth career 100-yard rushing game, and third this season (113 vs. Michigan State, 142 at Minnesota). The last Hawkeye to rush at least 30 times in a game was Jordan Canzeri, 43 carries vs. Illinois in 2015.
Smith-Marsette had 3 receptions for 44 yards. He became the 25th player in program history to surpass 1,400 career receiving yards, raising his career total to 1,443.
Duncan moved into the top five in career field goals made. Duncan connected on four (32,33, 48, 37) field goals, passing Tom Nichol (45) and raising his career total to 44.
Roberts recovered a fumbled punt in the fourth quarter. It is Roberts second fumble recovery of the season (Northwestern).
Miscellaneous Notes
Hawkeyes are 18-4 in their last 22 rivalry trophy games (Iowa State, Minnesota, Nebraska, Wisconsin). Iowa has won six straight against Nebraska and seven of the last eight meetings.
Iowa's opening drive of the second was its longest scoring drive of the season in terms of plays and time of possession (14 plays, 66 yards, 6:18).
Up Next
The Hawkeyes play at Illinois on Saturday, Dec. 5. Kick time and TV information has not been announced.