Editor's Note: This story first appeared in the December issue of Hawk Talk Monthly, the official e-magazine of the Iowa Hawkeyes. The publication was named best in the nation in 2018, 2019 and 2020. To read Hawk Talk Monthly, click HERE.
By DARREN MILLER
hawkeyesports.com
IOWA CITY, Iowa — One of the first things senior Zion Sanders will tell you is that she is different from most players on the University of Iowa women's basketball team.
First, she joined the program as a walk-on after a successful career at Central High School in Evansville, Indiana. No scholarship? No problem, she earned one midway through her first season.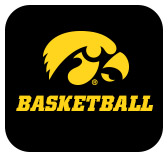 Second, she is one of three team captains, despite averaging a little more than five minutes of playing time per 56 games over the past three seasons.
"The fact my teammates look at me as someone who is a captain and leader for this team is awesome and incredible," Sanders said.
Her statistics from 2019-20, when the Hawkeyes went 23-7 overall, 14-4 in the Big Ten, are slight but stellar. Not only did she shoot 100 percent from the line (4 of 4) and 80 percent from the field (4 of 5), but in just 70 minutes, Sanders had 11 assists, 10 steals and five rebounds.
"There will always be players who are better than you and have more skills than you, but your attitude and how you work hard is a personal motive and I find that in myself."

Zion Sanders, Iowa senior captain
"Zion fills any possible need you want, (positions) 1 through 5, she will do it and she won't complain," said junior center Monika Czinano. "She is a great rebounder, a great team leader and she knows how to bring us together."
Sanders is respected for her basketball knowledge. It runs in the family; her mother, Ulanda played basketball at Georgia, her father, Vincent, played basketball at South Carolina State. It was advice from dad that continues to serve her well.
"He used to tell me, don't let anyone out-work you," Sanders said. "There will always be players who are better than you and have more skills than you, but your attitude and how you work hard is a personal motive and I find that in myself. Even if I'm outmatched with skills, I always go out there and give the best I can."
Teammates notice and respond to Sanders's work ethic. Despite scoring just 52 points in her career, Sanders was elected captain along with redshirt senior Alexis Sevillian and redshirt sophomore Kate Martin.
"Zion is one of those people who makes our team who we are," said Sevillian, a two-year captain. "We have success because of her and because she comes in every day and gives her all which makes us all better. There is no selfishness in her."
In high school, Sanders set a school record for assists and twice was named all-city and all-state. She was a multi-sport performer, qualifying for the Indiana High School Athletic Association state track and field championships in the shot put and discus.
Sanders made the most of her opportunity in the 2019 Big Ten Championship against Maryland. She played a minute and came up with a key steal in a game the Hawkeyes won, 90-76. It was their first tournament title since 2001.
"It is knowing my role and I was willing to do that because I know how good of a team we were and how good of a team we could be," Sanders said. "Whatever I have to do, whether that is playing defense all day in practice or being a passer, getting minutes when someone gets in foul trouble or being able to step in to lead that way."
Now a senior, Sanders is called upon to support a strong corps of younger players.
"She is great at picking everyone up whenever we're down," said freshman Lauren Jensen. "She is super-encouraging and positive."
Sanders has learned from outstanding leaders over the years: Hannah Stewart, Kathleen Doyle, Megan Gustafson and Makenzie Meyer to name a few. She plans to leave her mark for upcoming captains.
"When people become captains in the future," Sanders said, "they can see what I have done or what other captains from the past have done and try to incorporate that into a new team."
Iowa (3-0) attempts to successfully defend Mediacom Court inside Carver-Hawkeye Arena for a 39th consecutive time Wednesday against Iowa State (2-2). The Hawkeyes have won the last four meetings in the Iowa Corn Cy-Hawk game.