IOWA CITY, Iowa – The University of Iowa women's gymnastics team is ranked 25th in the Women's Collegiate Gymnastics Association preseason poll, it was announced Thursday by the WCGA. The Hawkeyes accumulated 372 points.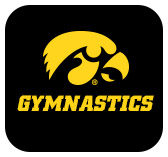 Iowa returns 12 letterwinners in 2020-21, including WCGA second-team All-American and first-team All-Big Ten selection Lauren Guerin.
Iowa is one of nine Big Ten teams in the rankings or receiving votes along with Michigan (fifth), Minnesota (11th), Nebraska (20th), Illinois (22nd), Penn State (27th), Ohio State (29th), Michigan State (34th), and Rutgers (RV).