By SHANE STURTZ
hawkeyesports.com
IOWA CITY, Iowa — In its final nonconference tilt, the University of Iowa women's basketball team (5-1), won its 40th straight game inside Carver-Hawkeye Arena — 92-65 victory over Western Illinois (1-7) on Mediacom Court on Tuesday afternoon.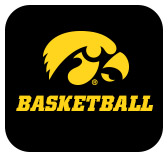 Freshman Caitlin Clark notched her first career triple double and entered the Iowa record book becoming the fourth Hawkeye in school history and first since Sam Logic (March 27, 2015 versus Baylor) to do so.
Not bad for an "off night."
"They're special," Iowa head coach Lisa Bluder said of Clark's triple-double. "They don't happen very often. I'm thrilled with her as a freshman to be able to accomplish this. She found other ways to contribute, which is great."
Clark scored 13 points, added a career-high 13 rebounds and dished out 10 assists. Clark's 10th and final assist came with 5:10 left in the fourth on a lob pass to junior Logan Cook, who finished the layup to become the fifth Hawkeye to reach double digits.
Cook was a perfect 5-of-5 from the floor and finished with career highs in points (12) and rebounds (nine). She was one of six Hawkeyes to reach double figures in points and nine Hawkeyes to play at least 10 minutes.
Iowa was down McKenna Warnock (sprained ankle), who is expected to play in Iowa's next game against Rutgers, but got contributions all over, outscoring Western Illinois 39-28 in bench points.
"Coming into this game, we felt we really could go to our bench," Bluder said. "I was glad we were able to accomplish that and have our bench build confidence."
Iowa led by two after the first quarter but separated itself with a 41-29 halftime advantage. Sophomore Megan Meyer scored eight first-half points en route to a career-high 13.
Led by five Gabbie Marshall steals, the Hawkeyes scored 15 points off turnovers on 14 first-half miscues by Western Illinois. Marshall finished the game with a career-high six steals to go with 11 points.
Iowa outscored Western Illinois by 10 in the third quarter. Junior Monika Czinano scored eight of her game-high 19 points in the fourth quarter to record her sixth straight game in double figures.
Freshman Sharon Goodman was one rebound shy of a double-double, tallying career highs in points (12) and rebounds (nine).
CLARK'S HOLIDAY TREAT
Clark had six points, five rebounds and four assists in the first half, and seven points, eight rebounds and six assists in the second half to become the second freshman (Sam Logic, Feb. 26, 2012 versus Michigan) in school history and first in the country since the 2016-17 season to register a triple-double.
"I knew I was close, but I didn't know how close," Clark said. "Especially since I was not shooting the ball well. In the fourth quarter, I wanted to get other teammates shots, get their confidence going, and get them easy buckets.That was my mentality in the fourth quarter."
Clark also became the seventh player in the NCAA to record a triple-double in a player's first five career games.
OF NOTE
It was Iowa's first game in 10 days. Iowa's Dec. 19 game against Ohio State was postponed due to COVID-19 issues within the Ohio State program.
Iowa's 10 triple-doubles in school history are tied for second all-time in the NCAA.
Iowa's 14 steals were a season high.
Western Illinois finished the 9-of-34 from long distance after draining 4-of-9 3-pointers in the first quarter
UP NEXT
Iowa plays on New Year's Eve day against Rutgers at 2 p.m. (CT) inside Carver-Hawkeye Arena.