By SHANE STURTZ
hawkeyesports.com
CHAMPAIGN, Ill. – It was all Hawkeyes from start to finish at the State Farm Center on Sunday.
In a 107-68 dismantling of Illinois (2-4, 0-3), the University of Iowa women's basketball team (7-1, 3-1) led 35-10 after the first quarter and never looked backed.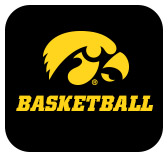 "I love the way we came out on the road and took over in the first quarter," Iowa head coach Lisa Bluder said. "We dominated that first quarter – 35-10 – and did well on both sides (of the ball). We shot the 3-ball exceptionally well. It took the momentum away from Illinois."
The 25-point first-quarter lead was Iowa's largest scoring margin in a quarter this season and the 107-point output was one point shy of a school record for points scored set last season in Iowa's 108-72 win at home over Illinois.
Bolstered by two 3-pointers apiece from freshman Caitlin Clark and sophomore McKenna Warnock, Iowa went on a 18-2 run to lead 19-6 five minutes into the game.
Clark (21 points) led Iowa in scoring and was one four Hawkeyes to reach double figures. Warnock finished with 18 points (7-9 field goal, 4-6 3-point field goals) and seven rebounds.
"We knocked down some big 3s early," Clark said. "Our transition offense is what led us out to that big lead. We kept pushing. In the second half, we got a lot of people involved, which helped stretch that lead."
Iowa finished the first quarter on a 13-0 scoring run, capped by a buzzer-beating 3-pointer by sophomore Megan Meyer, who was the fourth Hawkeye to drain a 3-point attempt in the game's first 10 minutes.
The Hawkeyes were 7-of-12 from distance in the first quarter and 14-of-33 for the game. It is the fourth time this season Iowa has drained 10-or-more 3-pointers. The Illini were 4-of-19 from the floor and 0-for-7 from downtown in the first frame and missed its first 14 attempts from long distance.
Ten Hawkeyes scored in the first half as Iowa led 52-25 at the break.
The third quarter was much like the first – hot shooting from the Hawkeyes and a cold spell from the Fighting Illini – as Iowa's lead stretched to 40 points before heading to the fourth quarter with an 83-45 advantage.
Iowa's offensive attack wasn't only a 3-point shooting display. The Hawkeyes dominated the glass, 48-31, outscoring the Illini in points in the paint (46-32) and second-chance points (27-12).
OF NOTE
The Hawkeyes have won six straight games over the Illini.
Iowa's 23 assists and 40 field goals made were season highs.
Iowa nearly had as many offensive rebounds (19) as Illinois did defensive rebounds (20).
Redshirt sophomore Kate Martin tied a career-high with seven rebounds and had a game-high five offensive boards. Warnock and junior Logan Cook also pulled down seven rebounds.
Clark has scored 20-or-more points in seven of her first eight games.
Warnock has made at least four 3-pointers in back-to-back games and is shooting a team-best 53.1 percent (17-of-32) from distance this season.
Freshman Lauren Jensen's seven points and two 3-pointers set new career highs.
Meyer scored seven of her 10 points in the fourth quarter. Meyer was 4-of-5 from the field in 10 minutes off the bench.
UP NEXT
Iowa hosts Minnesota on Jan. 6 at 6 p.m. (CT) inside Carver-Hawkeye Arena. The game will be streamed on BTN Plus.