IOWA CITY, Iowa – The University of Iowa men's and women's swimming and diving programs' 2020-21 schedule has been officially released by the Big Ten Conference. The shortened schedule will see the Hawkeyes compete three times prior to championship season.
Iowa will open the 2020-21 campaign, hosting Wisconsin and Nebraska on Jan. 15-16 at the Campus Recreation and Wellness Center. The women's team will host a tri-meet dual against the Badgers and Huskers, while the men will compete head-to-head against Wisconsin.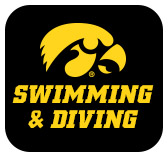 The Hawkeyes will travel to Evanston, Illinois, on Jan. 22-23 for a tri-meet dual against Northwestern and Penn State before heading north to Minneapolis on Feb. 5-6 for a meet against Minnesota and Nebraska. The Iowa women will face the Gophers and Huskers in a tri-meet format, while the Iowa-Minnesota men will compete head-to-head.
Championship season begin Feb. 24-27 with the women's Big Ten Swimming Championships. The Big Ten Diving Championships (both genders) will be held at the same time in West Lafayette, Indiana. The men's Big Ten Swimming Championships will be held from March 3-6. Locations for the swimming championships are TBA.
Specific dates for the NCAA Zone Diving Championships are not available at this time.
The NCAA Championships will be held in Greensboro, North Carolina, in late March. The women's championships will be held from March 17-20, while the men's championships will take place from March 24-27.
Exact dates/times for each meet will be released at a later date.