By JAMES ALLAN
hawkeyesports.com
IOWA CITY, Iowa — When Mallory Jump decided to jump colleges, she re-connected with the University of Iowa swimming and diving program.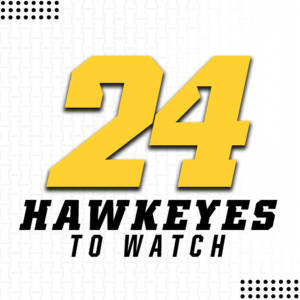 A sophomore from St. Charles, Illinois, Jump spent her freshman season at Purdue where she set three freshman records and accounted for 26 points at the 2020 Big Ten Championships. Following the season, Jump looked for a better fit and relied on a past relationship in Iowa City.
"Iowa was one of my top choices (in high school)," said Jump. "That made my second recruiting process easier because I had a campus tour and had talked to the coaches. Since I had talked to them the first time, they already knew me.
"The coaches had a huge role in me wanting to come here as well as the team. I knew some people beforehand, so I had an instant connection."
Swimming in the Big Ten Conference was important to Jump, so that made the move to the Hawkeye state a natural fit.
"I always wanted to swim in the Big Ten," she said. "It was a dream of mine. Staying in the conference was important to me and being close to home was also a priority."
Jump stated swimming at age 5 with a small club team. When her family moved to St. Charles, she joined a bigger club and got more serious with the sport. That's when she decided to swim in college.
"My sophomore or junior year is when I started getting phone calls and texts as a recruit," said Jump. "It put everything into perspective that I was good enough to swim in college. That was exciting for me and my family."
Jump was a four-year All-American and all-state honoree at St. Charles North High School. She qualified for the championship finals 12 times at the state meet and was the team's Most Valuable Swimmer as a senior.
Jump's addition to the Hawkeyes gives the team options. At Purdue, she set freshman records in the 100 back (54.36), 100 fly (53.51) and 200 IM (1:59.70). The record in the 100 fly had stood since 2014.
"Mallory is versatile," said Iowa head coach Marc Long. "She is talented with the fly, and she works hard and is driven. She has been a great addition to this team in the time she has been here."
Jump has made waves for the Hawkeyes since joining the program. At the team's first intrasquad meet, she nearly broke a school record in the 200-yard IM; a month later, she unofficially broke her teammate Kelsey Drake's record in the 100-butterfly, posting a time of 1:52.7 at the team's championship-style meet.
"It has been awesome to have Kelsey as a training partner," said Jump. "It is different this year because I have someone to push me. Last year, (Kelsey) qualified for NCAAs and that is my goal this year."
Jump moved to Iowa City to begin life as a Hawkeye in early August. Later that month, she and her teammates' world was turned upside down when they learned the program would be eliminated after the 2020-21 season because of the financial impact of the global coronavirus pandemic.
"I was shocked and upset, but at the end of the day, I am happy I am here," said Jump. "This year is going to be an experience, one that I have loved so far. It is an experience I will carry with me throughout my life and I would not change.
"I thought about leaving at semester, but I committed to swim for Iowa this year and I want to train and be here because at the end of the day, that is what I committed to do."
Jump is exploring her post-Iowa options. She wants to continue swimming, but first she wants to help the Hawkeyes move up in the Big Ten standings by scoring in all of her events at the Big Ten Championships. Her primary goal is to qualify for the NCAA Championships.
With no schedule in place, Jump is all-in on training, so she will be ready if and when those competitions are announced.
"Even though there is no set meet date, I am treating it as there will be," she said. "Right now there could be a Big Ten and NCAA Championships, so I want to make sure I am as prepared as I can be for those big meets.
"Some days can be hard, but that goes with any season. Swimming is what I love doing, so I enjoy going to practice. That helps my mindset and as long as I am enjoying it, I have a pretty good mindset."