By JAMES ALLAN
hawkeyesports.com
IOWA CITY, Iowa — Lauren Guerin strives for a perfect 10.000.
The University of Iowa junior describes a perfect floor routine as hitting every landing and getting height on the various leaps with a 180-degree split. She says perfection also means "showing off" the dance aspect of the routine and performing with confidence.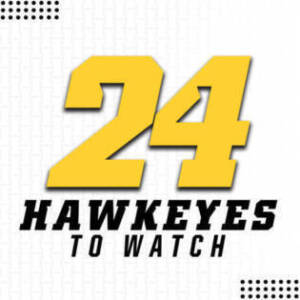 "You have to put a lot of work in training to get consistent enough to produce that every weekend," said Guerin. "It's focusing on working day-in and day-out to get better."
Guerin was consistent on floor during her sophomore season. She competed in the event in every Hawkeye meet where she recorded nine consecutive scores of 9.850 or better. Guerin posted a career high 9.950 at Maryland to tie the third-best floor score in program history, then she matched it twice (at Penn State, versus West Virginia) to finish with a 9.920 national qualifying score.
"I would put money down that she was one of the most consistent competitors in the country," said Iowa head coach Larissa Libby. "It took a lot for her to prove herself, but by the end of the year, you could see that the expectation was there that she would hit.
"Whether somebody else hit or missed (their routine) before her, it was the same consistent, strong performance. That's what you want out of your best competitors.'
The GymHawks peaked when the 2020 season was canceled because of the global coronavirus pandemic. Iowa closed the year with consecutive victories over Iowa State and West Virginia, posting successive season bests.
"I want to get back into the same consistent place and score as high as possible. I want to score a 10 on floor; I am going to work toward that. I have never had a perfect 10 on floor and it's driving me crazy. That's my main goal."

Junior Lauren Guerin
"It was disappointing with the way the season ended because we were a team on the rise," said Guerin. "We had just gotten our highest team score and went out with a big one against Iowa State (a 196-425-196-225 win). It was disappointing, but you can't get lost in what ifs."
Guerin was feeling blue when she returned home to Austin, Texas, in March. That was until she learned she was selected as a Women's Collegiate Gymnastics Association second-team All-American on floor.
"It made it a million times better," said Guerin, who was also named first-team All-Big Ten. "I was feeling accomplished because it was something I worked hard for. It wasn't something I tried to pay attention to (during the season), so it was a shock to me. I was surprised and overwhelmed with emotion."
It was Guerin's second straight All-Big Ten recognition. She earned second-team honors as a freshman in helping the Hawkeyes earn an NCAA Regional berth.
Guerin's mother, Heather, enrolled Lauren in dance class when she was toddler because she thought gymnastics was too dangerous. During one of her first classes, Guerin was hanging upside down from a dance bar and doing cartwheels, which implored the instructor to encourage Heather to look into another activity.
"They told my mom they thought I was a better fit for gymnastics," said Guerin. "My mom took me to a gymnastics class, and it was history from there. It has been a long time, but I have loved every minute of it."
Guerin started competitive gymnastics by age 6, but she says she didn't fully understand it until she was 12 when higher-level competitions began. By the time Guerin was a high schooler, she won regionals on floor in 2016 and was third in 2017 and she was a top-seven finisher at nationals both seasons.
As Guerin watched older gymnasts move on to collegiate programs, it piqued her interest. Iowa got involved in Guerin's recruitment when former Iowa assistant (and now Air Force head coach) Jennifer Green visited Austin. When Guerin took her official visit, she was sold.
"The second I met the team, I fell in love," said Guerin. "Everyone came up to me and introduced themselves, Larissa was fantastic, and I loved the facility. I was obsessed and knew after I left that I had to come here. It was my dream school."
The 2021 season is going to be unlike any other for Guerin and the GymHawks. Home meets inside Carver-Hawkeye Arena will likely be held without spectators, forcing the team to perform without the crowd's energy.
Guerin's goal for her junior season is to stay healthy — she and her teammates are doing their best and taking the appropriate precautions — and she is aiming for a second All-America and first-team All-Big Ten honor.
"I want to get back into the same consistent place and score as high as possible," she said. "I want to score a 10 on floor; I am going to work toward that.
"I have never had a perfect 10 on floor and it's driving me crazy. That's my main goal."
Libby recalls three meets last season where Guerin could have received a 10, and that's not just coach speak.
"I am hard on my kids, so it's not like I am easy to get a 10 from," said Libby. "Some people say you shouldn't put things in athletes' heads, but with this athlete, she thrives on that. She thrives on going after something that for someone else might seem out of the realm of possibility. She likes challenges and is the best in those situations."
Guerin is zoned in on the feat. It is a score that would put her in a league of her own in Iowa history. The current school record sits with Alexis Maday and Stephanie Gran as the duo share the top mark at 9.975.
"I have put in her head that she should and will score a 10," said Libby. "I wouldn't say that if I didn't believe it.
"I'll be excited to see the day when she is rewarded with that because it will mean so much more than that day's perfection. There is a lot that goes into that, including breaking into an elite rank of names and people in order to be seen enough to be given the perfect 10."
What will happen if Guerin reaches that milestone?
"I will probably start crying because of how much hard work has gone into it, not only this season, but my whole life," said Guerin. "Having the hard work pay off would be unreal. I probably wouldn't even believe it, you would have to pinch me."