By DARREN MILLER
hawkeyesports.com
IOWA CITY, Iowa — Beat Michigan State on a cold late November afternoon in Kinnick Stadium and the University of Iowa was Rose Bowl bound for the first time in 23 seasons.
The year was 1981 and because of Ohio State's 14-9 upset victory over Michigan earlier in the day, the Hawkeyes would advance to the "Granddaddy of Them All" with a win over Michigan State.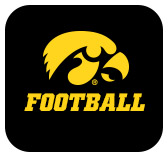 Iowa used a Hall of Fame effort from its defense to spark the Hawkeyes and get more than 60,000 fans warming themselves on a 30-degree day with dreams of a trip to California. On the game's first play, Spartan quarterback Bryan Clark completed a pass to tight end Al Kimichek.
"Bob (Stoops) lit this guy up and the ball went in the air what seemed like 50 feet," said Iowa head coach Kirk Ferentz, who was in his first season as offensive line coach in 1981. "This guy is laying out on the turf and Bob is standing over with both arms in the air like, 'This is going to be a game boys.'"
The strong safety's forced turnover was corralled by left end Andre Tippett, who returned it eight yards to the Michigan State 18. Sixty-one seconds in, the Hawkeyes had a lead in a game they won, 36-7.
Tippett and Stoops are linked once again in college football history. Both have been elected to the 2021 College Football Hall of Fame Class — Tippett for his accomplishments as a player from 1979-81, Stoops as the head coach at Oklahoma from 1999-2016 where he compiled a record of 190-48.
An Inauspicious Start
Tippett did not play Pop Warner football. Instead, he learned a hardened version of the game in the streets of Newark, New Jersey.
"We would toss it up and you tried to avoid hitting car bumpers," Tippett said. "It never dawned on me that I wanted to play football until I got to high school."
Tippett wanted to attend Barringer High School because the Blue Bears were known for fielding successful teams. Trouble was, Tippett did not reside in the Barringer district.
"I used a friend of the family's address," Tippett recalls with a laugh. "I wanted to go to that particular high school because it was famous for sports and academics and I wanted to be part of that."
Even then, things didn't get off to a flying start. A friend encouraged him to attend freshman football tryouts. A hesitant Tippett went but was one of the few at the week-long audition without football gear.
"I didn't have any clothes, but I went anyway," Tippett said. "I got cut. But in the middle of all that, I realized I really liked the game of football. I don't have any gear, I'm out there in school clothes running around. I check the list at the end of the week and I'm not on the list and I'm upset and a little perturbed, but I don't get disappointed. I continue to follow the JV team and the varsity team, and I'm determined that I'm going to go out next year and make the team, which I did as a sophomore. Everything else is history."
As a sophomore, Tippett completed the eight-game junior varsity schedule and was called up to varsity, where he watched idols like Prentice Walker and hoped he could see the field for a play, maybe even on kickoff. In 1975, Barringer won the Group IV New Jersey State Interscholastic Athletic Association championship.
Getting Noticed
Because of his 6-foot-3, 230-pound frame, Tippett was catching the attention of college recruiters, including New Jersey native Bernie Wyatt, who was on coaching staffs for Bob Commings and Hayden Fry at the University of Iowa.
As a youngster, Tippett enjoyed watching Big Ten football on television, specifically the Ohio State-Michigan matchups around Thanksgiving.
"I wanted to be part of the Big Ten," Tippett said. "I wanted to have my picture on TV when they were showing the game and announcers would say, 'Andre Tippett, senior, two-time All-Big Ten, All-American.' You saw that stuff and thought, one of these days that's going to be me."
The dream was to play for Woody Hayes at Ohio State or Bo Schembechler at Michigan. But there was something intriguing about Wyatt and his sales pitch.
"Anybody from the East Coast that played at the University of Iowa during that time knew Bernie Wyatt, he is a special man," Tippett said. "He didn't sugarcoat anything, he always told us like it was. Bernie Wyatt is like Moses in our house and at our high school. To this day we all talk about Bernie Wyatt and how much we appreciate him because he gave us an opportunity."
Tippett found his way to Iowa in 1978 but played at Ellsworth Community College in Iowa Falls. His Hawkeye career began in 1979, the first season for head coach Hayden Fry.
"Iowa gave this poor kid from Newark, New Jersey, an opportunity to be somebody, to become something special, to be part of a legacy. I bleed black and gold and I will always bleed black and gold."

Andre Tippett, Iowa Defensive End 1979-81
The Hawkeye Years
The 1979 and 1980 seasons were tough. The Hawkeyes were a combined 9-13, including a 57-0 loss at Nebraska, a 58-13 loss at Purdue and a 41-7 loss at home to Ohio State.
"People didn't give us a chance," Tippett said. "We got beat up on and abused my sophomore and junior years. We didn't let that kill our confidence or our will. We embraced that — it was like that kid who says, 'Don't get up, don't get up, he is going to hit you again.' We were like, nah, we're going to get up. We had personalities on that team — I knew I was going down a dark alley with Brad Webb, Pat Dean, Tracy Crocker, Lou King, Mark Bortz, Bobby Stoops, Mel Cole and Todd Simonsen so I didn't worry about anything.
"We had great football players and we came to ball. Bottom line, if I had to do it all over, I wouldn't want to do it with any other guys."
Prior to the 1981 season, Tippett and Webb stopped by the football complex to meet Ferentz, the new offensive line coach. The previous season Ferentz was a graduate assistant at Pittsburgh, a team that featured linebackers Hugh Green and Rickey Jackson.
"They asked me if I had any film from Pitt," Ferentz said. "Green and Jackson weren't good players, they were great players. It was nice to say hello, but Tip wanted to see film. He had a lot of pride and wanted to learn. That told me a lot about Andre right there. He was already a dominant player."
In 1981, Iowa went 8-4, finished the regular season with the win over Michigan State and ended a streak of 20 consecutive losing seasons.
A consensus first-team All-American in 1981, two-time first-team All-Big Ten selection (1980 and 1981) and senior team captain, Tippett holds the Iowa single season record for tackles for loss yardage with 153 yards on 20 tackles for loss in 1980.
Tippett and his uniform No. 99 are now eligible for the Kinnick Ring of Honor on the façade of the Paul W. Brechler Press Box. Other members are Aubrey Devine (No. 1), Randy Duncan (25), Calvin Jones (62), Alex Karras (77), Nile Kinnick (24), Gordon Locke (1), Chuck Long (16), Duke Slater (15) and Larry Station (36).
After Iowa
Tippett was selected in the second round of the 1982 NFL Draft by the New England Patriots. He spent his entire 11-year career with the Patriots and was a member of three playoff teams, including the 1985 AFC champions. Tippett was a five-time Pro Bowler, two-time first-team All-Pro and the NFL Defensive Player of the Year in 1985. He is a member of the New England Patriots Hall of Fame and in 2008 was selected to the Pro Football Hall of Fame.
In 2007, Tippett was elected to the National Iowa Varsity Club Hall of Fame.
"It is an unbelievable honor, not everybody gets that opportunity," Tippett said. "The College Football Hall of Fame, like the Pro Football Hall of Fame, is the highest honor you can get, especially after being out of college football for as long as I have. It's impressive and it is a great honor."
Bleeding Black & Gold
"It was a fantasy, but if you believe in something long and hard enough it happens. That is what we did as kids growing up — we fantasized about being a player out in the streets and all of the sudden, the opportunity hits you in the face." — Andre Tippett
Tippett has not forgotten his roots. Prior to the 2020 season, he conducted a Zoom conference with University of Iowa linebackers, touching on football, but more importantly, how to succeed in life, especially in the days when football stops.
"He is a Hall of Fame person, not just a football player," Ferentz said. "Andre has never drifted from things that made him a special person in the 1970s and 80s. He is a consistently good person."
Involved in community outreach throughout the Massachusetts region since his NFL career began, Tippett currently serves as the executive director of community affairs for the New England Patriots.
The first person in his family to attend college, Tippett made the most of his opportunity at the University of Iowa.
"Iowa gave this poor kid from Newark, New Jersey, an opportunity to be somebody, to become something special, to be part of a legacy," Tippett said. "I bleed black and gold and I will always bleed black and gold."
Bobby Stoops: From Great Player to Great Coach to Hall of Fame
Stoops, a defensive back from Youngstown, Ohio, was a four-year starter for the Hawkeyes from 1979-82. As a senior he was named first-team All-Big Ten and Iowa's Most Valuable Player. He began his coaching career under Fry at Iowa from 1983-87.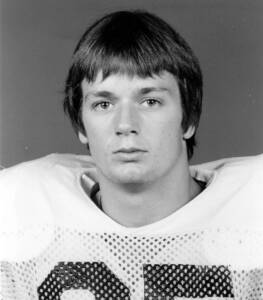 "Bob was extremely intelligent, competitive and tough on the field," Ferentz said. "He is one of those guys you want to be around. He has a charisma and a magnetism that is a little bit unique. He has a feel and appreciation for and understands people and he just gets it. His story is a good one."
Oklahoma's all-time winningest coach, Stoops is the only coach in history to win a national championship and all four BCS bowl games. He posted a 79.8 winning percentage during his 18-year tenure.
A two-time National Coach of the Year and six-time Big 12 Coach of the Year, Stoops led Oklahoma to 10 Big 12 titles while posting a 72-19 conference record during his career. His teams averaged 10.5 wins per season, and he owned a 101-9 home record, including a school-record 39-game winning streak at Oklahoma Memorial Stadium.
Induction Ceremony
Induction for the 2021 Class will take place Dec. 7, 2021, during the 63rd National Football Foundation Annual Awards Dinner. The event will also feature the induction of the 2020 Hall of Fame Class.
Joining Tippett as players in the Class of 2021 are Harris Barton (North Carolina), David Fulcher (Arizona State), Dan Morgan (Miami, Florida), Carson Palmer (Southern California), Tony Romo (Eastern Illinois), Kenneth Sims (Texas), C.J. Spiller (Clemson), Darren Sproles (Kansas State), Aaron Taylor (Notre Dame) and Al Wilson (Tennessee).
Joining Stoops as a coach is Ruby Hubbard (Florida A&M).