MINNEAPOLIS – Junior Lauren Guerin shared the floor crown in the 25th-ranked University of Iowa women's gymnastics team's season opener Friday afternoon at Maturi Pavilion. The 11th-ranked Gophers topped the Hawkeyes, 197.025-196.450.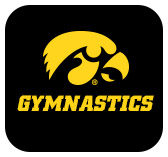 "This is a huge road score for us and I am not sure we have ever opened the season with such a significant score," said head coach Larissa Libby. "It was amazing to see the team come alive and to be a part of their genuine happiness was awesome.
"For now we are pleased, but we know we have work to do, but we will take the weekend to feel good about how we did tonight and get back in the gym Monday."
Guerin posted a 9.950 on floor – the fourth time she has reached the score in her career — to share the event win with Minnesota's Mya Hooten and Ona Loper. Senior Clair Kaji was fourth, tying a career-high with a 9.925.
The Hawkeyes got impressive debuts from their newcomers. Freshman Adeline Kenlin posted a 9.875 on bars and an 9.825 on beam, Aubrey Nick had a 9.775 on beam, and Kendall Laplante tallied a 9.750 on vault. Sophomore JerQuavia Henderson posted a 9.850 on vault and a 9.825 on floor in her first competition after missing her freshman season because of injury.
QUOTING HEAD COACH LARISSA LIBBY
"It was an emotional night. After months of practicing in a bubble, not knowing from day-to-day whether we could continue to practice, it was nice to finally get back on the competition floor again and feel "normal."
"You could tell the team was nervous, we all were.  The warm up was a little tentative, but by the end of it, they seemed to settle down.
"We still have a ton of places where we can improve, but I didn't want them focused on that tonight. I wanted them to remember who they were, what makes our program different, and to enjoy the moment."
BARS
The Hawkeyes posted a 49.000 on the bars in their first rotation behind a stellar debut by Kenlin. The Iowa City native posted a team-best 9.875 to tie for third in the event. Kaji followed with a 9.850 and Henderson had a 9.775.
VAULT
Iowa posted a 48.950 as a team on the vault in the second rotation behind a pair of 9.850's from Henderson and junior Bridget Killian. Junior Alex Greenwald had a 9.775 and Laplante posted a 9.750 in her Hawkeye debut. Makenzie Vance also posted a career high with a 9.750.
FLOOR
Guerin, aka Miss Consistent, posted the fourth 9.950 of her career to lead the Hawkeyes on the floor and share the event title. Iowa finished with a 49.425 as a team. Kaji tied a career high with 9.925 and Greenwald posted the second 9.900 of her career, tying a career best.
BEAM
Killian tied her career best to lead the team and she tied for second in the event with a 9.850. The Hawkeyes also got 9.825's from Vance and Kenlin, both tying for fourth. The GymHawks ended with a total of 49.075.
UP NEXT
The Hawkeyes host Ohio State in their home opener Jan. 23 at 7 p.m. in Carver-Hawkeye Arena. The competition will be Iowa's annual Pink Meet.