By SAM BASLER
hawkeyesports.com
IOWA CITY, Iowa – Led by a combined 16 fourth-quarter points from junior Monika Czinano and sophomore McKenna Warnock, the University of Iowa women's basketball team (9-3, 5-3) went on a 17-2 run to close the game and defeat Purdue (5-6, 2-5) on Monday on Mediacom Court in Carver-Hawkeye Arena.
The teams traded 3-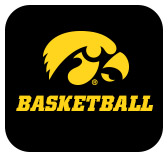 pointers to open the back-and-forth game which featured nine ties and five lead changes. The Hawkeyes never gave up despite Purdue taking its largest lead of the game with six minutes left.
Warnock had eight points and four rebounds heading into the fourth quarter, on her way to a 19-point, eight rebound night. From the corner with 2:37 left in the game, Warnock knocked down a 3-pointer to break a tie and give the Hawkeyes a lead.
"I thought McKenna had a great game," Iowa head coach Lisa Bluder said. "She shot the ball well and got offensive rebounds. I challenged her with that this week, and she responded. She had three offensive rebounds and a couple of assists. I thought she had a very good game for us."
Sophomore Gabbie Marshall had eight points for the Hawkeyes, along with three steals in a game where defense was a necessity.
Freshman Caitlin Clark scored a game-high 26 points, pulled in nine rebounds and tallied three steals. "It started on defense again for us," said Clark. "That is where it is always going to start for us. When we play good defense, we are a great team."
Defense and free throws emerged as two keys in the Hawkeye victory. Iowa recorded seven steals and six blocks, and outscored Purdue by 20 points at the free throw line.
"If you make 20 more points at the free-throw line than your opponent you better win the game in my opinion," said Bluder.
Tomi Time
Junior Tomi Taiwo was big for the Hawkeyes on the defensive end down the stretch playing six of her 15 minutes in the fourth quarter.
"That is why she is in there, quite honestly," said Bluder. "She is proving it on the defensive end in practice."
Taiwo had five points, a steal and a block registering a plus/minus of 12 for the Hawkeyes.
"I give a lot of props to Tomi Taiwo," said Warnock. "She had good defense when she came in. Some lock down defense, her girl didn't even see the ball."
The Hawkeyes held Purdue to six points over the last five minutes of the game as part of the 17-2 run that ultimately capped the victory.
OF NOTE
The Hawkeyes (9-3, 5-3) won their third consecutive meeting over Purdue (5-6, 2-5).
Clark and Warnock led the Hawkeyes as Clark scored 26 points and pulled down nine rebounds, and Warnock tallied 19 points and eight rebounds.
Czinano recorded a career-high five assists.
Freshman Sharon Goodman shot a perfect 5-of-5 from the free-throw line, a career best.
UP NEXT
Iowa heads to College Park, Maryland, to take on the Maryland Terrapins inside Xfinity Center on Thursday, Jan. 21. Tip-off is set for 4 p.m. (CT) on BTN.