IOWA CITY, Iowa — The University of Iowa track and field team won six events and recorded 11 career-best performances on Friday's first day of the Larry Wieczorek Invitational in the University of Iowa Recreation Building.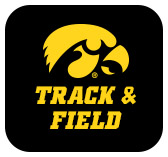 In the weight throw, Erika Hammond (55-feet, 5-inches), Kat Moody (54-8) and Ianna Roach (54-6) threw career-bests with Moody improving on her previous mark by over five feet. The Hawkeyes were led by Amanda Howe who placed third in 61-8. For the men, Jordan Hawkins recorded a career-best mark with a throw of 61-2.
The Hawkeyes continued their success into the shot put where Elijah Barnes (58-8) and Jordan Johnson (53-7) recorded career-bests. Moody continued her incredible day with another career best in the shot put with a mark of 52-3 meters. This mark puts her third all-time in program history.
"Coach (Eric) Wersky has been waiting on it," said Joey Woody, Iowa director of track and field/cross country. "We knew she had the talent but for her to step up and compete today that was impressive."
Senior Dallyssa Huggins finished her day with a new career best in the 600 meters with a time of 1:34.55. Earlier in the meet she won the  high jump with a leap of 5-foot-8 while teammate Maria Gorham finished in third with a career best mark of 5-7.
Junior Wayne Lawrence Jr., closed day one with a win in the men's 200 meter premier with a time of 21.14. He was followed closely by Austin Kresely who took third in 21.67.
Freshman Kal Lewis won the 600 meters in a time of 1:21.19. His teammate, Julien Newman ran a time of 1:18.37 to finish second in the 600-meter premier. Spencer Gudgel recorded a career best in 1:19.05 to finish fourth. Other event winners for the Hawkeyes were Drake Woody in the 200 (22.29) and Jamal Britt in the long jump (24-9 3/4).
QUOTING COACH WOODY
"In the men's long jump, it was good to see Jamal have a couple jumps over 24 feet. He was six-plus inches behind the board when he put up his best mark. I think that's a good sign.
"In the men's weight throw, Tyler Lineau competed well. Our whole throws group threw personal bests if not seasonal bests. Those guys are all trending in the right direction.
"Wayne capped off the day with a very impressive race. I'm excited to see what we can do coming back (Saturday)."
EVENT WINNERS
W-High Jump: Dallyssa Huggins (5-8)
M-Long Jump: Jamal Britt (24-9 3/4)
M-600: Kal Lewis (1:21.19)
M-200: Drake Woody (22.29)
M-200 Premier: Wayne Lawrence, Jr., (21.14)
W-600: Dallyssa Huggins (1:34.55) 
CAREER BESTS
M-Weight Throw: Jordan Hawkins (61-2)
W-Weight Throw: Erika Hammond (55-5)
W-Weight Throw: Kat Moody (54-8)
W-Weight Throw: Ianna Roach (54-6)
W-High Jump: Maria Gorham (5-7)
M-Shot Put: Elijah Barnes (58-8)
M-Shot Put: Jordan Johnson (53-7)
W-Shot Put: Kat Moody (52-3)
W-600 Meters: Dallyssa Huggins (1:34.55)
M-600 Meters: Spencer Gudgel (1:19.05)
M-600 Meters: Kal Lewis (1:21.19)
UP NEXT
The Larry Wieczorek Invitational continues Saturday starting with the women's pole vault beginning at noon. Running events begin at 1 p.m. (CT). For live results go to www.hawkeyesports.com/tracklive