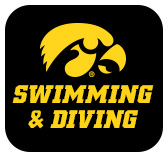 EVANSTON, Ill. – The University of Iowa men's swimming and diving team notched a 206-94 Big Ten dual victory over Penn State on Saturday at the Norris Aquatics Center.
The Hawkeye men also fell to Northwestern, 183-117, while the Iowa women dropped a pair of duals to Penn State (153-146) and Northwestern (225-75).
BACK-TO-BACK FOR TARASENKO
Junior Aleksey Tarasenko had two back-to0-back races in the 50 freestyle and the 100 freestyle and he stood out. With only the women's 100 free in between, Tarasenko won both the 50 free (20.07) and 100 free (43.70) and he achieved an NCAA "B" cut in his 100. Both times are season bests for Tarasenko.
THE JUNIOR DUO
Juniors Matuesz Arndt and Andrew Fierke made up the junior duo of the day with the pair taking home first and second in two events. In the 200 free, Arndt touched first (1:36.20) and Fierke was the runner-up (1:36.80).  In the 500 free, the pair finished in the same order with Arndt taking first (4:22.05) and Fierke taking second (4:26.25).
DANIEL'S "B" SWIMS
Senior Daniel Swanepoel swam a pair of NCAA "B" cut times in the breaststroke events.  He posted a time of 54.07 in the 100 and 1:57.56 in the 200, finishing second in both events.
NO INDIVIDUAL WINS BUT A SOLID PERFORMANCE
The Hawkeye women team did not notch a victory on Saturday, but the Hawkeyes had strong performances, by notching a second or third place finish in eight of the 12 events.
WOMEN'S DEPTH IS SOMETHING
The Hawkeyes showcased their depth in the 100 fly and 500 freestyle in the dual.  Iowa posted three of the top seven finishes in the 100 fly with senior Kelsey Drake (54.60) finishing second, senior Sarah Schemmel (56.11) placing sixth and freshman Alexa Puccini (56.68) placing seventh.
In the 500 freestyle, the Hawkeyes got a second place finish from Alyssa Graves (4:50.21) and a fourth place showing from Macy Rink (4:51.94).  Graves also won the 1,000 free on Friday night.
GOOD WAY TO FINISH
The Hawkeyes ended the meet strong with a second place finish in the women's 400 yard freestyle relay.  Sophomore Kennedy Gilbertson, sophomore Macy Rink, junior Lauren McDougall, and Drake (3:21.77) had a two second improvement over last week's time.
UP NEXT
Iowa returns to action Feb. 5-6, traveling to Minneapolis to face the Gophers.  The Hawkeye men will have a head-to-head dual against Minnesota, while the women will face both Minnesota  and Nebraska.