IOWA CITY, Iowa — The ninth-ranked University of Iowa women's gymnastics team one-upped itself in its home opener, posting a 196.550-193.800 victory over No. 13 Ohio State on Saturday night inside Carver-Hawkeye Arena. The Hawkeyes won or shared three of the four events and bested their season-opening score of 196.450.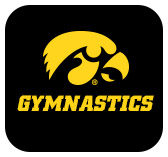 "I am speechless," said head coach Larissa Libby. "I looked up at that score and was like, 'Wait is that wrong?' We worked so hard to get there.  There is no teams that deserves that more than these kids."
The Hawkeyes got individual wins from Iowa City native Adeline Kenlin and Emma Hartzler on bars with 9.875s, senior Clair Kaji won on beam with a 9.875 and floor with a 9.925.  Six Gymhawks set career-bests in the victory.
"All of the wins were spread out," said Libby. "You want to have a consistent group out there, but right now, they're all the right group.  I like seeing the different people stepping in and when they do that, they're rewarded for it.  It's going to take that in the end."
QUOTING HEAD COACH LARISSA LIBBY
"I keep saying this team is incredible in so many ways.  What they are pulling off is miraculous.  We have never made a mistake like that (a fall on the vault) and come back and put the pedal to the metal on the last three events. This is a team that takes care of themselves and read each other superbly, so if there is someone struggling, there is someone there that steps in.   They have something unique and special and I feel grateful to be a part of it."
VAULT
Iowa posted a 48.850 on vault with senior Lauren Guerin tying for second with 9.825, which is her career best. Sophomore JerQuavia Henderson scored a 9.800 to tie for fourth place, while junior Mackenzie Vance set a career-best with a 9.775.  Vance was named the Hawkeyes' Gymnast of the Meet.
BARS
The Hawkeyes made a statement on the bars with all gymnasts setting season-bests and the GymHawks won or shared the top three spots.  Iowa posted a season-best 48.150 with Kenlin and Hartzler both setting career-bests with 9.875s.  Junior Alex Greenwald and Kaji followed, tying for third place with season-best 9.850s.  Sophomore Allyson Steffensmeier anchored the event and posted a 9.825.
BEAM
Iowa posted a 49.050 on beam with five of the six gymnasts setting either a season or career best.
Kaji set a season-high with a 9.875 to tie for first place. Kenlin tied her career-best with a 9.825, tying for third with Vance.  Junior Allie Gilchrist set a season best with 9.750 and freshman Aubrey Nick posted a 9.775.
FLOOR
The GymHawks posted the top four scores on floor, posting a 49.375. Guerin and Kaji tied for first place with a 9.925. Henderson finished third with a score of 9.875, Greenwald tied for fourth place with a 9.850, and Killian tallied a 9.800.
UP NEXT
The Hawkeyes return to action on Jan. 31, traveling to Champaign to face Illinois at 1 p.m. (CT).