IOWA CITY, Iowa – University of Iowa women's gymnasts Clair Kaji and Adeline Kenlin have been named the Big Ten Specialist and Big Ten Freshman of the Week, respectively, it was announced Monday by the Big Ten office.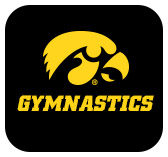 The duo earned the distinction after combining to share three event titles in the Hawkeyes' 196.550-193.800 victory over No. 13 Ohio State on Jan. 23. Iowa's 196.550 was a season high and moves the team's season average to 196.500 to remain No. 9 nationally. The GymHawks are ranked No. 1 nationally on floor.
Kaji earned her third career weekly honor (she was a two-time Freshman of the Week in 2017) after sharing two event titles against the Buckeyes. The Vancouver, Canada, native earned a piece of the beam crown after posting a 9.875 and she tied a career-high for a second consecutive week in posting a 9.925 on floor. Kaji currently ranks sixth nationally in the event.
Kenlin received her first weekly honor after sharing the bar win with senior teammate Emma Hartzler. The duo posted a 9.875 on the event. The Iowa City, Iowa, native also tied for third on beam (9.825) as the Hawkeyes' anchor in the event.
It is the second straight week the Hawkeyes have earned a weekly distinction. Junior Lauren Guerin was the Big Ten Specialist of the Week on Jan. 18.
The GymHawks return to action Sunday where they will face 18th-ranked Illinois in Champaign, Illinois, beginning at 1 p.m. (CT).