IOWA CITY, Iowa – The University of Iowa women's gymnastics team has achieved the highest ranking in school history.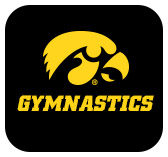 The GymHawks are No. 9 in the Road to Nationals rankings for a second straight week with an average score of 196.500. The program's previous best ranking came during the 2003 season when it was ranked 11th.
Iowa currently boasts a No. 1 national ranking on floor with a 49.400 average. The Hawkeyes posted a season-high 49.425 in the season-opener at Minnesota and boast two of the top six floor gymnasts in the nation in Lauren Guerin (t4th) and Clair Kaji (t6th).
The team also leads the Big Ten and is eighth nationally on balance beam and is 11th in the country on uneven bars.
The Hawkeyes return to action Sunday, traveling to Champaign, Illinois, to face the 18th-ranked Fighting Illini at 1 p.m. (CT).