By SHANE STURTZ
hawkeyesports.com
MINNEAPOLIS – The second half belonged to the University of Iowa women's basketball team in Sunday's 94-68 victory over Minnesota inside Williams Arena.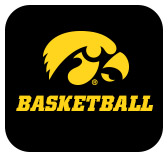 Leading 47-41 at halftime, the Hawkeyes outscored the Gophers 47-27 in the second half to top Minnesota for the second time this season and fifth straight time in the series, improving to 10-4 overall and 6-4 in the Big Ten.
Freshman Caitlin Clark (22 points, 11 assists) and sophomore McKenna Warnock (11 points, 10 rebounds) recorded double-doubles in the 26-point win. It was Clark's fifth double-double of the season and Warnock's third of the season and fifth of her career.
"We were fired up," Clark said. "We were excited to play. It's always hard to sit on a loss. We wanted to come out and make a statement, and we did that well. A lot of people contributed, and that's when we're playing at our best."
Junior and Watertown, Minnesota, native Monika Czinano led all scorers with 23 points on 11-of-14 shooting. Czinano, the nation's leader in field goal percentage, has missed only five shots (28-of-33) in her last two games and was one of four Hawkeyes in double digits tonight.
Halfway through the third quarter with a 10-point lead (57-47), Iowa put the game completely out of reach with an 18-3 run to end the third.
After stealing the Minnesota inbounds pass, junior guard Tomi Taiwo put the exclamation point on Iowa's third-quarter dominance by draining a 3-pointer as the buzzer sounded.
Taiwo was one of four Hawkeyes to sink a 3-pointer and one of seven Hawkeyes to score in the third as Iowa shot 60 percent from the floor (12-of-20) and 50 percent from long distance (4-of-8) in the third quarter.
Iowa's defense forced seven third-quarter turnovers to spark the Hawkeye offense.
"When you're knocking down 3s, getting steals, and getting easy layups – it's fun basketball," Clark said. "Everyone was smiling and having fun. The coaches were having fun. It's what we want to do every single night."
Clark and Czinano scored 15 of Iowa's 19 points in the fourth quarter to cap off Iowa's second road win this season.
HEAR FROM HEAD COACH LISA BLUDER
"I loved the energy we played with today. Our focus was really good. It feels good to play a clean game."
"That third quarter was domination. … It's like a snowball – it just keeps rolling. Your great defense fires you up for offense. You make a basket, then you're fired up for defense. It's a momentum thing. When it's going like that, you don't want the quarter to end."
OF NOTE
Clark's first bucket 1:20 into the game broke Iowa's single-season scoring record by a freshman. She ranks seventh all-time on Iowa's single season scoring list (254 points), passing Iowa's all-time leading scorer Megan Gustafson.
Iowa scored 22 points off turnovers, registered 25 fast break points, and assisted on a season-high 28 of 36 made baskets.
The Hawkeyes committed only 14 turnovers – its lowest total in five games.
Iowa's 12 steals were the second highest total of the season
UP NEXT
Iowa hits the road again to face Ohio State on Feb. 4 at 5 p.m. (CT) in Columbus, Ohio. The Buckeyes snapped Iowa's 42-game home winning streak in the first meeting, handing the Hawkeyes an 84-82 overtime loss on Jan. 13.