IOWA CITY, Iowa – University of Iowa senior Bennet Huang has been named the Big Ten Gymnast of the Week, it was announced Monday by the league office. It is Huang's fourth career Big Ten honor.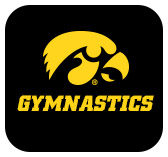 The Palo Alto, California, native earned the recognition after winning the all-around in the Hawkeyes' season-opening victory at Minnesota. Huang edged teammate Evan Davis for the top spot, finishing with a score of 80.450.
Huang shared the title on floor, finishing with a 14.100 and he finished in the top five in five different events. He finished second on horizontal bars (13.300), fourth on parallel bars (13.350), and fifth on pommel (12.550) and vault (13.350). Huang also was 10th on rings (12.900).
Huang currently sits fifth nationally in all-around and is tied for ninth on floor along with junior Stewart Brown. The Hawkeyes are also represented in the top 10 in the national rankings by Davis (fourth on rings; 13.850), Carter Tope (fourth on parallel bars; 13.900), and Amari Sewell and Brown, who are eighth and ninth, respectively, on vault.
As a team, the Hawkeyes are fifth nationally with a 393.650. Iowa ranks second on vault, third on rings and parallel bars, fourth on floor and high bar, and 11th on pommel.
Huang was previously honored as the Gymnast of the Week during the 2020 season. He was twice named the Big Ten Freshman of the Week in 2018.
Iowa returns to action Feb. 13, hosting No. 4 Illinois at 6 p.m. (CT) inside Carver-Hawkeye Arena.