IOWA CITY, Iowa — The 10th-ranked University of Iowa women's gymnastics team set a season high overall score to beat No. 11 Minnesota, 196.800-196.325 on Saturday afternoon inside Carver-Hawkeye Arena. The Hawkeyes tied the fourth-best team score in school history and the score is ranked No. 1 in the Big Ten.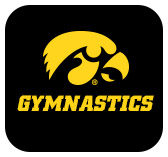 "This week it was all about the details, that's how we were going to get ahead of Minnesota because they are a meticulous team," said senior Clair Kaji. "I am so proud of this team. I can't do what I do without them. I can get all the high scores, but it's the team that set me up to get those high scores. It has always been all about us."
The Hawkeyes set three new team season highs and set two individual team high as well as tying one. Iowa had two gymnasts tie for first-place on beam and bars. Kaji, who tied for beam, scored a 9.900. Junior Lauren Guerin tied for first on floor with a 9.950, tying her career best. Six Gymhawks set season-bests in the victory.
"I am extremely proud," said head coach Larissa Libby. "It's hard, the stakes rise every day, and not just from the gymnastics standpoint but with staying healthy. We have learned to control the things that we can control, and I believe that is why the great performances are happening. We are so happy to be out there with each other."
QUOTING HEAD COACH LARISSA LIBBY
"We are so happy to be out there with each other. The thing that I liked the most about today, is a team about Minnesota is wow. They are amazing and they very rarely miss. To compete with them, we needed them to make a couple mistakes. We weren't perfect tonight, but we were perfect enough to put pressure. You must be able to come back. You must just do your thing, and we looked at the big picture from the beginning. They shock me every day and I am so impressed with them."
VAULT
Iowa set a new season high posting a 49.125 with Guerin setting a new induvial team high on vault with a 9.900, which is also her season best. Sophomore JerQuavia Henderson scored a 9.850, tying her career best, while junior Bridget Killian scored a 9.825. Iowa City native Adeline Kenlin scored 9.800.
BARS
The Hawkeyes posted a 49.075, with Kenlin tying for third place with a 9.850. Kaji followed in fourth place with a 9.825, while four Hawkeyes all tied for sixth place. Henderson, junior Alex Greenwald, Ellie Rogers and Emma Hartzler all scored a 9.800.
BEAM
Iowa posted a 49.150 on beam, which is a team season high. Kaji set a season-high with a 9.900 to tie for first place. Kenlin placed third with a 9.875, and Makenzie Vance came in fourth with a 9.850.  Junior Allie Gilchrist tied a season best with 9.750 and Henderson posted a 9.725
FLOOR
The GymHawks posted a 49.450 on floor, which is not only a team season high, but it also tied the fifth place overall team school record. Three Hawkeyes tied career bests with Guerin tying for first place scoring a 9.950. Her week-old routine ties for third place in the individual school records and ties her own career best. Henderson ties for third place scoring a 9.925, which is her career high. Greenwald tied her career best with a 9.900, and Kaji finished with a 9.875. Bridget Killian and Erin Castle both scored a 9.800.
ALL AROUND
After missing last season due to an Achilles tear, Henderson competed in her second all-around of the season, scoring a 39.300.
UP NEXT
The Hawkeyes return to action Feb. 13, hosting No. 28 Maryland in Iowa City at 1 p.m. (CT).