IOWA CITY, Iowa – University of Iowa gymnasts Lauren Guerin and Adeline Kenlin earned their second Big Ten Conference weekly recognitions of the season Monday, it was announced by the league office. Guerin was selected as Big Ten Specialist of the Week, while Kenlin was named the Freshman of the Week.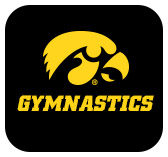 Guerin earned Specialist of the Week honors after tying for first place on floor and finishing third on vault in Iowa's home victory over No. 11 Minnesota on Feb. 6. The Austin, Texas, native posted a 9.950 on floor for the second time this season (and fifth time in her career) while debuting a week-old floor routine. She scored a 9.900 – a season-high – on vault.
Her performance helped Iowa post a season-high 49.450 on floor, a score that is fifth-best nationally and is tied for the fifth-best score in school history.
Kenlin was selected as the Freshman of the Week after posting two third place finishes on beam (9.875) and bars (9.850). She also was seventh on vault (9.800). Iowa finished with season team highs on vault (49.125) and beam (49.150).
As a team, Iowa scored a 196.800 in the victory, which is the team's highest score since 2004 and one that is tied for fourth-best all-time in school history. The Hawkeyes are currently ninth nationally with a 196.531 average.
Iowa ranks third in the nation on floor, seventh on beam, 11th on bars, and 15th on vault. The Hawkeyes lead the Big Ten on floor and beam.
The Hawkeyes have earned Big Ten recognition in each of the first four weeks of the season, earning a total of six accolades. Iowa has earned Specialist of the Week honors all four weeks and the six total honorees are the second-most in a single season in program history (seven, 2004).
Guerin was Specialist of the Week on Jan. 15, senior Clair Kaji and Kenlin were Specialist and Freshman of the Week on Jan. 22, and Kaji earned a second straight Specialist of the Week distinction on Feb. 1.
No. 9 Iowa returns to action Saturday, hosting No. 29 Maryland at 1 p.m. (CT) at Carver-Hawkeye Arena.