By JAMES ALLAN
hawkeyesports.com
IOWA CITY, Iowa — Enough.
The ninth-ranked University of Iowa women's gymnastics team is enough and has had enough. That's why the team's slogan for the 2021 season is "Enough."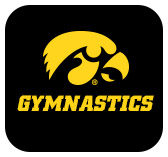 "Coming up with it was a combination of a lot of things," said Clair Kaji, a fifth-year senior from Vancouver, Canada. "Two years ago, we had our slogan, 'I am enough.' In gymnastics, we always try for perfection and humans aren't perfect. We tell ourselves we are enough and what we bring to the table is enough.
"The other part came from the social justice issues that blew up with Black Lives Matter. With that, we've had enough. We are enough and we've had enough of these injustices and we wanted to bring awareness to them because they are so prevalent."
The team began considering ideas over the summer. When senior Emma Hartzler made her pitch to head coach Larissa Libby, she was in favor.
"You can't ignore something like that," said Libby. "You can't bury your head in the sand, it's that important. This was too big of an issue and we have too large of a platform to not say anything.
"It was the wrong thing to do to stay silent, and the team agreed."
Kaji says the team dialogues about social justice has made the team closer.
"We're not shy with these talks, but I don't think in my five years here, we have gone this deep into the conversation mostly centering on race," said Kaji.
Kaji has also introduced a podcast — Seeing White — to her fellow GymHawks. She first heard the podcast during one of her classes during the fall semester and it was too powerful not to share.
"It talks about Black history, which is American history," said Kaji. "There are things that we never learned in school and I wanted to show it to our team. We have been discussing each episode every week and it has brought us together.
"We're digging into our history and coming to terms that a lot of our history is sugar-coated and white-washed. The bigger thing is that the norm is dangerous, we cannot go back and will not go back because normal wasn't working. It's a choice to learn about the issues that are so rampant, even when they don't affect you."
That's why Libby believes having an open dialogue and encouraging change is important.
"We have learned a lot about it, so now we're moving forward by taking action," said Libby. "We put up enough with what has happened in the past. It's enough and it's time to do something about it."
"To move forward, it has to be hard, uncomfortable and reflective," said Kaji. "We're taking the greatest of steps to get where we want to be in the future. Strength lies in our unity and we're committed to coming together to do what is right."