By DARREN MILLER
hawkeyesports.com
IOWA CITY, Iowa — It is a celebration reserved for champions. As red, black and white confetti rained onto the field Sunday night at Raymond James Stadium, two Tampa Bay teammates embraced, smiled and reflected on their first meeting three years prior on a practice field in Iowa City, Iowa.
Moments earlier — as a result of a 31-9 victory over the favored Kansas City Chiefs in Super Bowl LV — Buccaneers outside linebacker Anthony Nelson and offensive tackle Tristan Wirfs ascended to the top of the football world. It was especially fulfilling for Nelson to share the moment with Wirfs, who he calls one of his favorite teammates when the duo starred at the University of Iowa in 2017 and 2018.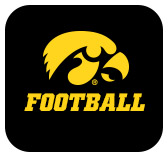 "We celebrated and were able to look at each other and say something along the lines of 'Can you believe we are here?'" said Nelson, who had a solo tackle and quarterback hit against the Chiefs. "Who would of thought this is where we were going to end up after going against each other all those years in spring ball at Iowa?"
Nelson was in his third year as a Hawkeye when Wirfs arrived on campus as a true freshman in 2017. Almost immediately, the two went head-to-head in drills. They continued for two years until the 6-foot-7, 271-pound Nelson entered the NFL Draft after his redshirt junior season in 2018.
"It is special because Tristan made me a lot better player in college and he contributed a lot to the development I had as a player," Nelson said. "I hope he feels the same about me. To be able to go to the next level and share that experience and get the ultimate goal of a Super Bowl with him is special."
Nelson is a Hawkeye legacy; his father Jeff earned three letters as a defensive lineman under Hayden Fry from 1990-92. For young Anthony, his athletic goal was to play football for the Hawkeyes, not necessarily win a Super Bowl.
"Playing at Iowa was my main dream," Nelson said. "I focused on that when I was a kid because my dad played there."
He came to Iowa weighing 210 pounds after earning all-state honors at Waukee (Iowa) High School. He credits the Iowa football program for not only building his body, but for instilling the competitiveness he needed to succeed in the NFL.
"The coaches set you up for success at the next level because of the way they teach," Nelson said. "They teach you the right technique and to play the game in a way that translates well to the NFL. That's why Iowa continues to send players to the NFL and why it continues to have success."
"The coaches (at Iowa) set you up for success at the next level because of the way they teach. They teach you the right technique and to play the game in a way that translates well to the NFL. That's why Iowa continues to send players to the NFL and why it continues to have success."

Anthony Nelson, Super Bowl champion
The most recent Super Bowl included four Hawkeyes: Nelson and Wirfs for the Buccaneers and Anthony Hitchens and Ben Niemann for the Chiefs.
In three seasons as a defensive end for the Hawkeyes, Nelson made 119 tackles (31 for loss). His sack of Boston College quarterback Darius Wade late in the fourth quarter led to a fumble in the 2017 Pinstripe Bowl. That sparked the winning drive as Iowa prevailed, 27-20. It was one of three bowl games Nelson participated in as a Hawkeye. Coincidentally, the other two were Outback Bowls held in Raymond James Stadium, home of the Buccaneers and site of Super Bowl LV.
"A lot of bowl games in Raymond James for me. It's not too bad at all, it's a great stadium," Nelson said. "I love playing there, beautiful weather in Tampa. I have had a lot of good memories there, it is an awesome place."
As a redshirt junior in 2018, Nelson was named second-team All-Big Ten by media and third team by coaches after the Hawkeyes capped a nine-win season with a 27-22 win over Mississippi State in the Outback Bowl. He was selected by Tampa Bay in the fourth round of the 2019 NFL Draft; Nelson was one of four Hawkeyes drafted that year.
"I knew I had so much more to improve. It's the competitor in me, I always wanted more," Nelson said about his decision to leave college early to enter the draft. "I couldn't pass that opportunity of testing myself and playing against the best. I knew the faster I got (to the NFL), the better I could end up being."
He played in nine games in 2019, starting one game, and making eight total tackles. This season, Nelson played all 20 games (Tampa Bay finished 11-5 in the regular season and won all four postseason games) with 22 tackles, nine quarterback hits and three tackles for loss. Nelson's Super Bowl highlight was putting pressure on Chiefs quarterback Patrick Mahomes, who threw for 4,740 yards and ran for 308 during the season.
"He is a good athlete, but we were able to be in the backfield and have him throwing, diving, throwing sideways and running around the whole game," Nelson said. "Being able to go out and chase after him was fun, and that is something defensive linemen love."
Looking back, Nelson said a season like this is possible, but not probable. He compares it to walking outside in a thunderstorm where you could get struck by lightning, but it isn't likely. He still pinches himself when he thinks about playing on the same team as quarterback Tom Brady, who threw for three touchdowns on Super Sunday. But Brady's arm isn't the only thing that lifted the Buccaneers this season; Nelson was motivated by a preseason speech from the seven-time Super Bowl winner.
"There is a championship every year so why stop at one?" Nelson said. "Tom told us this summer when he came in, that his favorite championship ring is always the next one. That has to be the mindset. It has been so incredible to win one, I can't imagine what it would be like to win two and beyond. There is always more to prove individually and as a team. Part of being a competitor is bringing it every year. It will be an awesome and exciting challenge to try to repeat a level of success personally and as a team."
Before the 2021 season kicks off, Nelson will be united in marriage with Jordyn Steinkritz on June 19 in Norwalk.
"My fiancée has made a lot of sacrifices for me in my career," Nelson said. "I have spent a lot of time with football and she supports me, so she deserves a great wedding. Then I might have to get her something special."
A second Super Bowl ring would be nice.