By JACK BACON
hawkeyesports.com
IOWA CITY, Iowa – The long wait is almost over. When the University of Iowa soccer team kicks off its season on Saturday in Loves Park, Illinois, it will mark the program's first return to competition since 2019.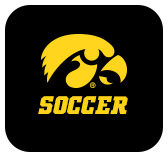 "It's a weird feeling to think that after all this time we finally get to play against another opponent," said junior Hailey Rydberg, who was named to the Big Ten Players to Watch List for the 2021 season. "The biggest thing is the excitement to finally go out and prove ourselves and prove to other people that the work we've been putting in these past few months will pay off."
The Hawkeyes have practiced together since the end of last summer, but have been unable to compete as a team since the coronavirus pandemic forced the cancellation of 2020 spring soccer and postponed the regular fall season. Instead, Iowa commences a conference-only spring season on Saturday.
"This group, like every group of student-athletes across the country, have gone through a wide array of emotions," said Iowa head coach Dave Dilanni. "First we hear we are going to have a season, then we heard we're not going to have a season.
"Then there was a shutdown as an athletics department, and then just having to take every class online. We're so proud of how they have handled it."
Rydberg says that, despite the challenges, the hiatus provided the team with an opportunity to become a more cohesive unit.
"I think we've been able to get to know each other, create that team chemistry, and push each other our hardest," said Rydberg. "So now when we go out to play a real opponent, we'll have that energy, and that bond to be able to work together on the field."
Team chemistry will prove crucial as Iowa looks to fill the void left by 12 seniors from the 2019 team. That squad produced one of the program's most successful outings ever, achieving a 15-5-1 record that tied for the most wins in a single season and sent the Hawkeyes to their second-ever NCAA Tournament appearance.
Now, it is largely up to juniors like Rydberg to continue that momentum, as defender Diane Senkowski is the only senior on the 2021 roster.
"It's going to come down to that team environment and team chemistry at the end of the day," Rydberg says. "The Big Ten is a difficult conference, especially when you haven't played a real game in almost two years. But you have to think, neither have they.
"It's going to take a lot of mental toughness, physical toughness, and just remembering why we're here."
DiIanni and the Hawkeyes have high expectations for the different 2021 campaign.
"We want to make the Big Ten Tournament. We want to finish as high as we possibly can. We want to make the NCAA Tournament," said DiIanni. "That's not going to happen if we don't get better every single day and buy into the process. Part of that staying healthy, both from COVID and injuries, and part of that is committing the energy necessary to be great every day."
The Hawkeyes and Badgers will play at the Mercyhealth Sportscore Two Complex in Loves Park, Illinois, at 6:30 p.m. (CT).  The two teams battled to a 2-2 tie during the last meeting in 2019.