By DARREN MILLER
hawkeyesports.com
IOWA CITY, Iowa — At her home in Columbia, Missouri, Paige Magee has a board that lists her high school accomplishments and remaining goals. At the bottom of the board is a saying that served her well in high school and is doing the same during her freshman season as a hurdler at the University of Iowa.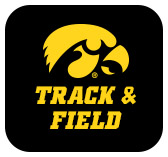 "Be better than you were the day before," reads the inscription on Magee's motivational board. That outlook has led Magee to wins in her last four 60-meter hurdle races; she won the Hawkeye Big Ten Invitational on Feb. 12 in a Big Ten-leading 8.29 seconds.
That career-best time has Magee studying another board; the one that lists school records and hangs in the northwest corner of the University of Iowa Recreation Building.
"I have my eyes set on the record and I'm very close to doing it, so that would be nice to accomplish at the Big Ten meet," Magee said. "I remember something my high school coach told me my freshman year at state. He asked if I was nervous and I said I was. He said, 'You're a freshman, there are no expectations for you, you just have to go out and compete' and that's what I want to do [at Big Tens]."
Magee's 60 hurdle time of 8.29 is third all-time in Iowa history. Karessa Farley set the record of 8.21 in 2009, and Magee's teammate Jenny Kimbro ran 8.25 last season. Magee was runner-up to Kimbro (competing unattached) on Jan. 23 at the Larry Wieczorek Invitational and edged Kimbro by .05 seconds at the Hawkeye Big Ten Invitational. Magee won a preliminary and final Feb. 6 at both the Husker Quadrangular and the Hawkeye Big Ten Invitational, giving her four wins in a row.
"It would be so nice to win Big Tens, especially as a freshman. I just have to make small improvements every time I race. That's what I focus on."

Paige Magee
"I could see it early in the fall, this girl has something special, it's just a matter of getting dialed in on her rhythm and timing on the hurdles," said Joey Woody, University of Iowa director of track and field/cross country. "She has great speed and I knew that would come together when she got more comfortable with the hurdles coming at her a lot faster than they were in high school. You have to keep working on that rhythm and technique and she is starting to get dialed in on that."
Magee attended Battle High School in Columbia, Missouri, and always considered Iowa "the other black and gold" compared to her hometown University of Missouri. But the Tigers didn't recruit Magee, who was first noticed by Jason Wakenight, Iowa's recruiting coordinator.
Woody knew Magee had won the 2019 AAU Junior Olympic national title in the 400 hurdles and also placed in the 110 hurdles. He liked the way she crossed over into multiple events.
"She is a good combination hurdler which we have had a lot of success with at Iowa," Woody said. "What I like best about her is her attitude. She is always trying to get better, is not boastful and wants to compete and help the team. I think that is why she is having success — it's not just about her, it's about what she can do to help the team."
Heeding advice from her coach, Magee aims to stay active through the start of the hurdles and then finish strong.
"I always hear [coach Woody] in my head when I'm running," Magee said. "Stay active."
Powered by her drive to be better than the day before, Magee sits on top of the Big Ten performance list in the 60 hurdles. Her teammate Tionna Tobias is fourth (8.45). The next event is the Big Ten Indoor Championships on Feb. 25-27 at SPIRE Institute in Geneva, Ohio.
"She is one of the best in the conference," Woody said. "She has as good a chance of competing to win as anybody in the field."
"It would be so nice to win Big Tens, especially as a freshman," Magee said. "I just have to make small improvements every time I race. That's what I focus on."