LOVES PARK, Ill. — The University of Iowa soccer team opened its season with a 1-0 loss to Wisconsin on Saturday night at the Mercyhealth Sportscore Two Complex.
Wisconsin sophomore Claire Odmark knocked in the game's only goal at the 9:25 mark in the first half.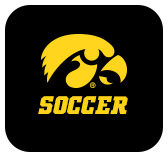 The Hawkeyes played well in the second half and had two opportunities late.  Freshman Meike Ingles' shot hit the crossbar and junior Hailey Rydberg missed a shot on a breakaway.
The hard-fought opener was Iowa's first taste of Big Ten play as the Hawkeyes prepare to take on a conference-only schedule this spring.
HEAR FROM HEAD COACH DAVE DILANNI…
"It was a great feeling all-around to see the team on the field again competing together and for the Hawkeyes. It has been a long time coming.
"We spoke before the game about being resilient and not allowing moments in the game to affect our mentality and how we competed. I think we did that for 90 minutes. Credit to Wisconsin for an opportunistic goal early in the game that created momentum for them in the first half.  We created enough good scoring chances to not only tied the game, but win it, but unfortunately we need a little more quality and composure and that's OK.  It's early, we will get better in that area.
"I think early on we were a bit anxious and nervous, but we settled down in the second half. I was happy with how we limited their opportunities and created our own, especially in the final 15 minutes when we missed a breakaway and hit the crossbar. We had some good showings tonight by individuals and it's a good foundation to build on heading into next weekend's games.
"Wisconsin is a team that doesn't beat themselves and we knew that going in and weren't able to capitalize on the good chances we created.
"I am happy for Meike, Maggie Johnston, Aleisha Ganief, and Rielee Fetty, who not only got their first collegiate playing time, but showed well for themselves."
OF NOTE
Iowa out-shot Wisconsin (5-3) and had a 4-3 advantage in corner kicks.
Rydberg took three of the team's four shots on Saturday. She gave the Hawkeyes 86 minutes.
Iowa boasted a youthful starting lineup, opening the game with seven juniors, two sophomores, two freshmen, and no seniors. Lone Hawkeye senior Diane Senkowski provided 18 minutes off the bench.
NEXT UP
Iowa travels to Champaign, Illinois, on Feb. 25 to take on Illinois. Kickoff is at 3:00 p.m. (CT).