IOWA CITY – The sixth-ranked University of Iowa men's gymnastics team posted a 398.850-393.550 victory over fifth-ranked Penn State on Saturday night at Carver-Hawkeye Arena. The Hawkeyes won the all-around with junior Evan Davis claiming the top spot for the second straight meet with a with a score of 80.850.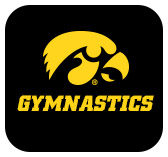 Iowa has opened the 2021 season with a 3-0 record.
"The reason this team is so strong, is that there's something about being an underdog. We create so much energy that it feels like it affects the other team," said Davis. "When asked about the lingering affects of this being the final season. We want to prove people wrong."
Along with winning the all-around, Davis tied sophomore Carter Tope as individual event champion on horizontal bars with a 13.250. Senior Bennet Huang, who was the runner-up to Davis in the AA competition, won on the parallel bars, and on the floor. (13.350, 13.900).
Quoting Head Coach JD Reive
"I really want to see us refine a few things as we get into this second half of the season."
"Our mental fortitude has been pretty good, so they're handling the pressure."
When asked about the upcoming week off Reive said, "That recovery is important for us right now, so that we can get back into this next phase of things and hit it hard. We have Michigan and Ohio State, two road trips all within a week that is going to test us."
FLOOR
The Hawkeyes went 1-2 on the floor with Huang leading the way, posting a 13.900 to take the title. Evan Davis's second place finish was with a score of 13.850, and a season best of 13.800 for Carter Tope had him in a tie for fourth. Iowa's team total was 68.200 in the opening rotation.
POMMEL
Tope placed second, tying his career best of 13.350. Junior Drew Helberg set a new career best with his 13.200, placing fourth, and sophomore Amari Sewell did the same with his score of 12.900, which included a seventh-place finish. Huang added another top five finish with a 13.150, which contributed to a team total of 65.450.
RINGS
Freshman James Friedman led the way, finishing second with 13.350. Davis scored 13.300, awarding him third, and Brown took fourth with his 13.100. Sophomore Reuven Anderson posted a season best of 12.900 and finished fifth. Tope also put up a season best of 12.250 to add to his all-around total. The Hawkeyes finished the third rotation with a score of 65.250.
VAULT
Brown paced the Hawkeyes in the third rotation, finishing third with a score of 14.300. Tope continued to add to his season best night with a new high of 14.050 to share seventh. A career best of 14.000 was scored by Friedman to give him ninth place. Davis's career best of 14.350 was counted toward his all-around total on the night. The Hawkeyes finished with an event total of 70.100.
PARALLEL
Huang tied his season high of 13.350 placing him first alongside Tope at the top of the event. Davis scored a 13.250 for a share of third and Brown added a 13.200 for fifth. Junior Peyton Hobson destroyed his career high with a 12.650 for seventh. Friedman had a career best as well, as he finished with 11.800 to take ninth. Iowa closed out the fifth rotation tallying of total of 65.800.
HORIZONTAL
Davis walked away with a share of the title in the final rotation, scoring a 13.250. Junior Noah Scigliano had a season high of 13.150, good for fourth. Brown and Alex Walther tied for eighth with 12.750 in the final rotation. Iowa closed the night out with a team total of 64.050.
UP NEXT
The Hawkeyes will have a week off before they head to Ann Arbor, Michigan, for a March 6 matchup against Michigan.