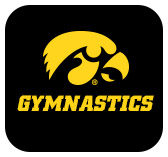 LINCOLN, Neb. — The seventh-ranked University of Iowa women's gymnastics team battled back in the second half of the meet to capture a 195.850-195.100 win over Nebraska on Saturday night inside the Bob Devaney Sports Center.
Three gymnasts tied season-bests and two gymnasts set a new season best. Iowa got event titles from freshman Adeline Kenlin and senior Clair Kaji and sophomore JerQuavia Henderson tied for first place on floor to seal the win.
QUOTING HEAD COACH LARISSA LIBBY
"I am so proud of the team tonight. From start to finish, they battled. We struggled to find a good rhythm tonight, and even when we did, it didn't seem to be enough. We know we made mistakes in crucial places, but we also believe we are far better than what our score reflected.
"On our worst day, we walked away with a win and the knowledge that we are undefeated in the Big Ten.  This team is growing and I continue to be very proud."
VAULT 
Iowa set a new season high vault score, posting a 49.125, with two Hawkeyes tying their season best. Junior Lauren Guerin placed second after scoring a 9.875. Both Henderson and junior Bridget Killian posted a 9.850 to both set new season bests. Junior Carina Tolan made her vault debut of the season and posted a 9.750, while Kenlin scored a 9.750.
BARS
The Hawkeyes, who are third on bars in the Big Ten, posted an overall score of 48.250. Kaji tied for second, scoring a 9.825, while sophomore Ellie Rogers posted a 9.750. Sophomore Allyson Steffensmeier came next, scoring a 9.725.
BEAM 
Iowa posted a 49.175 on beam, finishing in the top two spots. Kenlin set a career best, posting a 9.950 to take first place. The Iowa City native puts herself in the school record books, tying for second all-time on beam. Kaji placed second after posting a 9.875, while Henderson and freshman Aubrey Nick both scored a 9.800. Senior Erin Castle made her beam season debut, finishing up with a 9.750, which is her season best.
FLOOR 
The GymHawks, who are No. 1 nationally on floor, posted a 49.300, which included placing in the top three spots. Kaji and Henderson both tied for the No. 1 spot after both posting a 9.925. Kaji tied her season best. Junior Lauren Guerin posted a 9.900 to finish as the runner-up, while Greenwald scored a 9.825.
ALL AROUND 
Henderson has been the only Iowa gymnast to post an all-around score this season. The Illinois native was the only gymnast to compete in all around Saturday. She finished with a 38.875.
UP NEXT
The Hawkeyes return to action on Feb. 27, traveling to Ann Arbor, Michigan, to compete in the Big Five Meet against Michigan, Michigan State, Penn State and Rutgers at 2 p.m. (CT).