By DARREN MILLER
hawkeyesports.com
IOWA CITY, Iowa — It is no surprise that University of Iowa junior Wayne Lawrence, Jr., has a target on his back this weekend after winning three events and being named Men's Track & Field Athlete of the 2020 Big Ten Indoor Championships.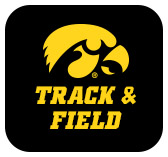 The Big Ten will hold its 2021 indoor championships Thursday through Saturday at SPIRE Institute in Geneva, Ohio, and all eyes in the men's competition will be on the lanky (and speedy) Lawrence.
"I have to go there and compete no matter what," Lawrence said. "No matter if I was bottom four or top four, I was going to have to go in there and compete. Knowing there are a lot of people looking at me and wanting to beat me boosts my spirits to want to compete more."
A year ago, Lawrence ran five races in two days and won the 200-meter dash (20.85 seconds), 400 (45.56) and anchored the victorious 4×400 relay (3:04.91). His times in the 400 and 4×400 set SPIRE records; the 400 time is a school record.
Lawrence won't be able to hit cruise control and expect similar success this weekend. He enters the championships seeded second in the 400 (46.08) behind Tyler Johnson of Ohio State (45.54) and fourth in the 200 (21.14). Iowa's 4×400 relay has run 3:08.25. Ohio State leads the conference in 3:07.45.
In the days leading up to the championships, Lawrence will fine tune his confidence and closing speed.
"We know I have the strength to run," he said. "To finish any race is more of speed thing and I have been kind of lacking on that. We have to work on our first zero to 220 and the rest of that is gold."
"Knowing there are a lot of people looking at me and wanting to beat me boosts my spirits to want to compete more."

Wayne Lawrence, Jr.
Everything came up gold for Lawrence last season when he contributed 22 ½ points to Iowa's runner-up total of 107. If he is going to get close to that point total this season, he will have to employ a one-race-at-a-time strategy.
"Our approach last year was to look at each race as its own separate challenge," said Jason Wakenight, Iowa assistant coach. "If you're going to run the prelims and finals of the 2 and 4 and come back and run a great leg on the 4×4, that's five separate opportunities to show up, execute and do what needs to be done."
If history is an indicator, Lawrence is on track for a repeat of those impressive performances. Entering the 2020 conference meet, his top time in the 400 was 46.09; in 2021 it is 46.08. His top time last season in the 200 was 21.22; in 2021 it is 21.14. Lawrence said he has endured a "weird" year, coming down with the coronavirus around Thanksgiving and building his strength since.
"I feel I'm getting back in shape, not necessarily where I was last year, but close to it," he said. "I don't think I'm that far off — I just have to go in there and compete."
A year ago, the Hawkeyes finished 13 points behind Big Ten champion Indiana. Lawrence was a member of Iowa's 2019 outdoor team championship and he is eager to celebrate indoors as well.
"It would mean the world since last year we came so close," Lawrence said of winning a second Big Ten team title. "It would be an amazing feeling this year to be one of those leaders who helped us secure that goal."