By SHANE STURTZ
hawkeyesports.com
IOWA CITY, Iowa – The University of Iowa women's basketball team (13-7, 9-7) drained 16 3-pointers in its, 89-67, win over No. 12 Michigan (13-3, 8-3) on Thursday night inside Carver-Hawkeye Arena on Mediacom Court.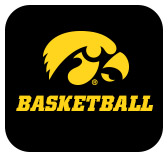 After a five-hour delay due to health and safety protocols, the Hawkeyes secured their first win over a ranked opponent since No. RV/24 Iowa State (Dec. 9).
"I'm thrilled to get this win today," head coach Lisa Bluder said. "Top-20 win — we needed this. We have been so close so many times and today we broke through. I'm really proud of our team maintaining this day and how strange the day was."
Iowa never trailed in the contest, jumping out to a 25-10 first-quarter lead and led by as many as 34 points in the fourth quarter.
Freshman Caitlin Clark sank 7-of-12 from long distance and led the Hawkeyes with a game-high 27 points, along with nine assists and five rebounds.
"Even before it got delayed, we were dialed in," Clark said. "We knew this was one we needed to win, and we wanted to win. We were mentally prepared and ready to go."
Clark was one of four Hawkeyes in double figures: junior Monika Czinano (15), sophomore McKenna Warnock (15) and freshman Sharon Goodman (10). Iowa shot a season-best 59.3 percent (16-of-27) from behind the arc, with four Hawkeyes making multiple 3-pointers.
"When one person makes a three, the next person gets that energy," Clark said. "The bench gets going. The crowd gets going. That's fun basketball and tonight we did a good job finding the one more pass. We weren't settling for a good shot. We were passing it off for a great shot. It's great to see so many people step up and hit those big 3s."
Redshirt sophomore Kate Martin hit Iowa's 10th triple of the first half as time expired, giving the Hawkeyes a 49-30 halftime lead.
Iowa extended its lead to 29 points halfway through the third quarter, before Michigan cut its deficit to 20 after a 9-0 run. The Hawkeyes answered with a 12-2 run to head into the fourth quarter with a 30-point lead (77-47), before handing Michigan only its third loss of the season.
HEAR FROM COACH BLUDER
"We kept telling our team we are so close. We have to put a defensive effort together, with what we are doing on the offensive end, and tonight we did that."
"Caitlin is obviously a special shooter, but we have a lot of people that are shooting it well from 3-point range. And that makes it fun, that it's just not one person contributing to that 60 percent 3-point field goal shooting."
OF NOTE
• The Hawkeyes have made 15+ 3-pointers on at least 50 percent shooting in their last three games.
• Iowa's bench outscored Michigan's 21-11.
• Clark has made at least six 3-pointers in her last four games.
• Clark was one assist shy of her seventh double-double of the season.
UP NEXT
The Hawkeyes travel to Madison, Wisconsin, on Feb. 28 to face Wisconsin at 2 p.m. (CT). The game will be televised on FS1.