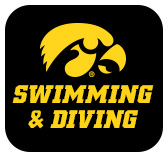 MINNEAPOLIS – Sophomore Mallory Jump set the University of Iowa women's swimming and diving team's program record in the 100-yard butterfly Thursday at the Big Ten Swimming Championships at the Jean K. Freeman Aquatics Center.
Jump qualified for the "A" final with a school-record time of 52.30 seconds, which was the third-fastest time in the prelims. The Illinois native went on to finish sixth in the final with 52.81 seconds. Jump has swam the three fastest 100 fly times in program history this season.
Senior Kelsey Drake joined Jump in the "A" final in the 100 fly, finishing eighth in the event with a time 53.19 seconds. The time was just off Drake's career best of 53.12 seconds.
The Hawkeyes also had a pair of "C" finalists in the 200 free. The tandem of sophomore Macy Rink and junior Lauren McDougall placed 17th and 22nd, respectively, with times of 1:48.03 and 1:49.53. Rink's time was a career-best and the sixth fastest in school history.
In the women's 400 IM all three participants in sophomore Georgia Clark (4:25.25), senior Lexi Horner (4:25.85), and sophomore Anna Brooker (4:26.11) had career bests.
Iowa sits in eighth place with 246.5 points following the third day of competition. Ohio State leads the way with 771 points.
UP NEXT
Friday's events will begin at 11 a.m. (CT) and consists of the 100 back, 100 breast, and 200 fly. The finals will begin at 6:30 p.m. (CT).