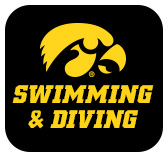 WEST LAFAYETTE, Ind. — Junior Samantha Tamborski won the consolation final, finishing ninth on the 3-meter on the opening day of the Big Ten Diving Championships at the Morgan J. Burke Aquatic Center.
Tamborski posted a season-best score of 322.25, an NCAA Zone Diving standard. The performance was a season-best by nearly 10 points.
Senior Jonatan Posligua paced the Hawkeye men, placing 24th off the 1-meter. He finished with 258.35 points in the prelims.
The Hawkeyes return to action Friday with the men competing on 3-meter and the women will complete on the platform. Action begins at 11:20 a.m. (CT).