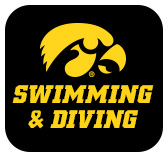 WEST LAFAYETTE, Ind. — Freshman Michael Konle recorded the top score of the day for the University of Iowa divers, finishing the 3-meter with a 21st-place finish on the second day of the Big Ten Diving Championships at the Morgan J. Burke Aquatic Center.
Konle posted a team-high 295.30, which is a season-best by nearly 20 points.
Freshman Sarah Ballard was the sole competitor for the Iowa women on the platform. This is the first time this season the Hawkeyes competed in the event. Ballard puts up a season-best 169.45.
The Hawkeyes close out the championships Saturday with the men competing on platform and the women off the 1-meter. Action begins at 11:20 a.m. (CT).