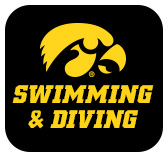 WEST LAFAYETTE, Ind. — Senior Jonatan Posligua was the University of Iowa diving team's top performer Saturday on the final day the Big Ten Diving Championships at the Morgan J. Burke Aquatic Center.
Posligua finished eighth off the platform in the consolation final (16th overall. He had a team-high score of 289.50 in the prelims and a 254.00 in the consolation final.
Junior Samantha Tamborski was the top finisher for the women, placing 17th off the 1-meter with a 263.10. Freshman Sarah Ballard finished 20th with a 261.55.
UP NEXT
The Hawkeyes will return to action March 11-13, competing at the NCAA Zone D Diving Championships in Lexington, Kentucky.