ANN ARBOR, Mich. — The 12th-ranked University of Iowa women's gymnastics team finished in first place, posting an overall score of 196.100, to win the Big Five Meet on Saturday inside the Crisler Center. The Hawkeyes finish perfect in the Big Ten regular season with an 8-0 record.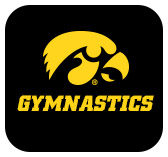 Iowa competed against No. 5 Michigan, No. 30 Penn State and No. 43 Rutgers. The Hawkeyes had one individual win and tied for first in two events. Iowa also set six new careers highs as well as put two Iowa gymnasts in the school record books.
QUOTING HEAD COACH LARISSA LIBBY
"Honestly feel like I'm in the twilight zone. That was a tough day!  We had mistakes early on, in a competition like that are usually tough to overcome. Somehow, the team managed to refocus and give strong performances on our last two events, to finish just in front of Michigan.
"We were not good today and that was frustrating, because we are all aware of where our potential lies. We have a lot to figure out so we can get back on track and put our best gymnastics out there. However, tonight we will enjoy celebrating three more wins, and our first against Michigan in their arena."
VAULT
Iowa set a new season high vault score, posting a 49.200, with four Hawkeyes setting career bests. Sophomore JerQuavia Henderson tied for second place with a score of 9.925. Henderson set a new career best and it ties for the ninth-best score in school history. Adeline Kenlin and Bridget Killian both scored a 9.850, which is a career best for Kenlin and ties Killian's best. Carina Tolan scored a 9.800, which beats her career best that was set in 2019.
BARS
The Hawkeyes posted an overall score of 49.00 with Iowa City native Kenlin setting a career high of 9.900. Clair Kaji and Tolan both scored a 9.850, which ties Kaji's season best. and Henderson and Allyson Steffensmeier scored a 9.700.
BEAM
Iowa, who is second in the Big Ten, posted a 48.575 on beam. Kaji tied for first place with a score of 9.950. This ties her career best that was previously set in 2017, which is second in the record books. Kenlin scored a 9.850 with Killian following with a score of 9.825.
"I give a lot of credit to freshman Aubrey Nick, for getting us back on track," said Iowa head coach Libby. "Her beam routine tonight was stellar, and the emotional high that that moment provided, gave us the inspiration needed to get through the event."
FLOOR
The GymHawks, who are No. 1 nationally and in the Big Ten on floor, posted a 49.375, with five Hawkeyes placing in the top five spots. Lauren Guerin was the event winner, posting a 9.900. Three Hawkeyes, Henderson, Kaji and Killian, tied for second place with a score of 9.875. This score is Killian's career best. Alex Greenwald followed with a score of 9.850.
ALL-AROUND
Henderson has been the only Iowa gymnast to post an all-around score this season. The Illinois native posted a 38.550.
UP NEXT
The Hawkeyes return to Iowa City on March 6, hosting Illinois at 1 p.m. (CT) inside Carver Hawkeye Arena in the home finale.