By SHANE STURTZ
hawkeyesports.com
MADISON, Wis. – The University of Iowa women's basketball team (14-7, 10-7) completed the season sweep over Wisconsin (5-17, 2-17) in an 84-70 victory on Sunday afternoon inside the Kohl Center.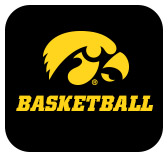 The Hawkeyes pick up their 10th Big Ten victory with two regular season games left to play.
"I'm happy with the road victory," head coach Lisa Bluder said. "They're not easy to come by. (Wisconsin) is a team that beat Ohio State a couple of weeks ago in Madison. We played three games in six days. Two of those were on the road. I love that we have four people in double figures, and Gabby (Marshall) had herself quite a great night."
Marshall led Iowa with a season-high 19 points, bolstered by 7-of-8 shooting from the floor and a season-best 5-of-6 shooting from long distance.
"I've been in a little shooting slump lately," Marshall said. "My teammates knew I was hot, and they were finding me and making the right pass."
Led by freshman Caitlin Clark's season-high 14 assists, Iowa dished out 22 helpers on 29 made field goals. Clark scored 18 points and grabbed a team-high seven rebounds to record her seventh double-double of the season.
"We had multiple people in double figures, which is always a good sign for us," Clark said. "That's when we play our best basketball. We found a way and locked down on defense when we needed to. Overall, a great performance from everybody on the team."
Junior Monika Czinano also poured in 18 points on 7-of-10 shooting and sophomore McKenna Warnock was the final Hawkeye in double digits with 14 points.
Shots weren't falling to start the game, but the Hawkeyes ended the first quarter with a 7-0 run and took their first lead of the game with a 19-18 advantage early in the second quarter. Sophomore Tomi Taiwo and Clark each drained two 3-pointers in the second frame, including a buzzer-beating 3 from Clark to end the half as Iowa held a 40-30 halftime advantage.
Czinano and freshman center Sharon Goodman each picked up their third foul early in the third quarter, and Wisconsin was able to cut Iowa's lead to four, 47-43, three and half minutes into the third.
The Hawkeyes, however, responded with an 11-3 run to take a 13-point lead (58-45) – their largest lead at the time – with 3:57 left in the third. Warnock started the run with an old-fashioned three-point play and Clark finished it with her third triple.
Iowa shot 71.4 percent (10-of-14) in the third quarter and limited Wisconsin to 30 percent shooting (6-of-20) to lead 68-50 heading into the fourth quarter.
The Badgers could never get within double digits in the fourth as the Hawkeyes handed Wisconsin its 24th straight loss in the series.
HEAR FROM COACH BLUDER
"We have a little momentum right now. We beat Maryland in those last three quarters on the road. We played well against Michigan. We come in and get a road win. We're enjoying that momentum and we're more confident as the season has gone along."
OF NOTE
Clark broke the Iowa women's basketball all-time freshman assist record with 149 on the season, surpassing former Hawkeye Kathleen Doyle, who recorded 148 assists during her freshman campaign in the 2016-17 season.
Taiwo (8) and freshman Sharon Goodman (7) combined for all 15 of Iowa's bench points.
UP NEXT
Iowa will play its third road game in four contests on March 3 against Indiana at 3 p.m. (CT) in Bloomington, Indiana. The game will be televised on Big Ten Network.