ANN ARBOR, Mich. – The seventh-ranked University of Iowa men's gymnastics team took its first loss of the season on Saturday afternoon, falling 402.650-398.650 at No. 2 Michigan. The Hawkeyes were able to claim the all-around title as senior Bennet Huang posted a season best 82.650.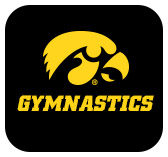 "Obviously, it was a bit disappointing to not come out with a win, but I think we are a strong team to contend with," Huang said. "I believe that it's important that our team remains confident in each of their own routines, but also strive for some better consistency in the gym. I believe our team is good enough that we can start demanding and expecting ourselves to execute our routines at a higher standard, both in practice, and at competitions."
Junior Evan Davis finished in second in all-around with an 80.000. Stewart Brown, the junior from North Carolina, took third with a career best score of 77.850, and finished first on the vault. Along with winning the all-around, Huang took the title on floor with a 14.500.
"I am pretty pleased with my routines today, and I feel like I am hitting a stride where I have the up-most confidence in hitting my sets," said Huang. "Now I can shift my focus to perfecting the little things in my routines."
Quoting Head Coach JD Reive
"We needed to outperform Michigan, and while we were capable, we did not. There were certainly some standout individual performances, but it's the team win we were after. It's a disappointing loss."
FLOOR
Huang posted a season high and claimed the crown on floor with his 14.500. Davis tied for fourth while tying his season high with a score of 14.100. Senior Kulani Taylor scored a new career best with his 13.900, which was good for sixth, adding to the team total of 68.400.
POMMEL
Huang paced the Hawkeyes with his second-place finish and season high of 14.250. Junior Drew Helberg took fifth with his score of 12.850. Davis and Carter Tope finished in a tie for sixth with 12.500. The team finished with a score of 64.200.
RINGS
A new career best from junior Peyton Hobson (13.750) led the way for Iowa and put him in third. Davis took fourth with a 13.350, and Huang and freshman James Friedman posted a 12.950, good for a tie in sixth place. Iowa closed the rotation with a team total of 65.300.
VAULT
The Hawkeyes stole the show on vault as they finished 1-2-3. A career best from Brown of 14.650 gave him the title. Huang took second with his own career best of 14.600. It didn't end there; Carter Tope also added a career best to his resume with a 14.400. Amari Sewell tied for fourth with a 14.350, and the team total for the event was 71.300 – the eighth-best total in school history.
PARALLEL
Huang broke his season high with a 13.450, which was good for third. Brown and Tope finished in a tie for fifth, scoring 13.300, and Hobson tied his career high with 12.650. Iowa finished with a 65.400 on the rotation.
HORIZONTAL
Davis finished in third place on the high bar with a score of 13.350. Huang and junior Alex Walther finished in a tie for seventh, both posting a score of 12.900. The team total for the Hawkeyes was 64.050.
UP NEXT
The Hawkeyes will hit the road for the second straight week, this time heading to Columbus, Ohio, for a March 13 matchup against Ohio State.