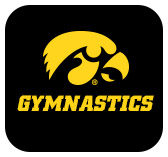 Iowa City, Iowa — The No. 17-ranked University of Iowa women's gymnastics team celebrated Senior Day by winning three of the four events in its 196.450-196.225 win over No. 19 Illinois on Saturday inside Carver-Hawkeye Arena.
The Big Ten regular season champions had two gymnasts tie career bests, and Iowa got event titles from freshman Adeline Kenlin, sophomore JerQuavia Henderson and senior Clair Kaji and Henderson tied for first place on floor to seal the win.
The Hawkeyes improve to 9-1 overall this season.
QUOTING HEAD COACH LARISSA LIBBY
"I think in the past two meets, I did not step in early enough because they have handled themselves. You always want to give your team a chance to handle things on their own, but as every weekend goes by, the stakes go up.  Now you are Big Ten Champions. You are now undefeated plus one. You have now beaten Illinois twice, once home and once away. They must learn, and we must teach how to be champion. We must be able to take the lead and hold it because we deserve too."
VAULT 
Iowa posted an overall score of 49.050. The Hawkeyes, who are second on vault in the Big Ten, finished in the top two spots. Henderson was the event winner with a score of 9.875. Kenlin placed second after scoring a 9.825. Both juniors Bridget Killian and Lauren Guerin posted a 9.800. Carina Tolan and Alex Greenwald also both scored a 9.750.
BARS
The Hawkeyes, who is ranked fourth on bars in the Big Ten, posted an overall score of 48.850. Kenlin finished second, scoring a 9.875. Kaji came next, scoring a 9.800 with Alex Greenwald following with a 9.775. Sophomore Allyson Steffensmeier posted a 9.750.  Emma Hartzler scored an 9.875 in her exhibition routine.
BEAM 
Iowa posted a 49.125 on beam, finishing in the top two spots. Kenlin scored 9.925 to take first place. Kaji placed second after posting a 9.900 and freshman Aubrey Nick scored a 9.825, which ties for her career best. Three gymnasts followed each other starting with Killian scoring a 9.750, senior Erin Castle followed, scoring a 9.725, and Henderson followed with a 9.700.
FLOOR 
The GymHawks, who are No. 2 nationally and No. 1 in the Big Ten on floor, posted a 49.425, which included placing in the top four spots. Kaji and Henderson both tied for the No. 1 spot after posting a 9.925. Kaji tied her career best to wrap up her final floor routine inside Carver . Junior Lauren Guerin posted a 9.900 to finish as the runner-up, while Greenwald scored a 9.875.
ALL AROUND 
Henderson has been the only Iowa gymnast to post an all-around score this season. The Illinois native, who is ranked fifth in the Big Ten, finished second with a 38.600.
UP NEXT
The Hawkeyes return to action on March 14, traveling to Lincoln, Nebraska, to compete against No. 35 Nebraska at 4 p.m. (CT) in its regular season finale.