FAYETTEVILLE, Ark. — University of Iowa track and field athletes Peyton Haack and Austin West are in eighth and 12th place, respectively, after completing four heptathlon events Thursday at the 2021 NCAA Indoor Championships.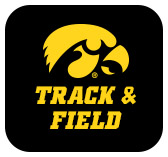 Haack and West competed in the 60 meters, long jump, shot put and high jump on Thursday. Haack has 3,192 points. His highest finish of the day was in the 60 meters, where he ran 6.96 and placed third. West has 3,115 points. His highest finish of the day was a seventh-place performance in the 60 meters (7.01).
Both athletes hit personal bests in the long jump. Haack landed 23 feet, six inches (7.16m) on his first attempt. West landed 23-10.25 (7.27m) on his third and final attempt.
Haack also recorded a career best in the shot put with a mark of 44-1.25 (13.44m).
QUOTING COACH JOEY WOODY
"I thought the guys competed really well today. Like all multi-event competitions, there are highs and lows, but overall, they are both in good positions heading into day two. Peyton is just over his Day 1 point total from Big Tens, and Austin is just off his Day 1 point total from Big Tens. They are both set up to have a great day tomorrow. This is a great start to the NCAA Championships."
UP NEXT
The heptathlon concludes Friday with the 60-meter hurdles, pole vault and 1,000 meters. The final three heptathlon events begin at 10 a.m. (CT) and conclude a 1:45 p.m.
Three more Hawkeyes open the national championships Friday with semifinal races. Jamal Britt competes in the 60-meter hurdles at 2:15 p.m. Wayne Lawrence, Jr. competes in the 400 meters at 2:25 p.m. Mallory King races the 800 meters at 7:55 p.m.
HEPTATHLON RESULTS
Peyton Haack
3. 60 meters: 6.96
9. Long Jump: 23-6 (7.16m)
10. Shot Put: 44-1.25 (13.44m)
8. High Jump: 6-4.5 (1.94m)
Austin West
7. 60 meters: 7.01
8. Long Jump: 23-10.25 (7.27m)
13. Shot Put: 42-4.75 (12.92m)
11. High Jump: 6-2 (1.88m)