By DARREN MILLER
hawkeyesports.com
IOWA CITY, Iowa — It had been an indoor season of consistency for University of Iowa junior Jamal Britt. Of the 11 times he competed in the 60-meter hurdles, he was first seven times, second once and third twice.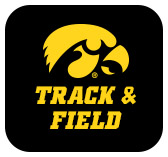 The 11th time Britt ran was in the final of the Big Ten Indoor Championships where he finished an uncharacteristic and disappointing fourth. Britt wasn't about to allow that race to define his season. An NCAA Indoor Championships qualifier, Britt had two weeks of preparation and reflection before he could return to the track in Fayetteville, Arkansas.
"We had a nice hurdle session (March 5) before we left for NCAAs, and (Britt) got locked in and was looking sharp," said Joey Woody, Iowa's director of track and field. "That gave me confidence he could go in and compete to win."
Britt opened the NCAA preliminary March 12 with a school-record time of 7.58 seconds. He was second in his heat and had the third-fastest qualifying mark.
"I had a quick start on prelim day, but I didn't have the best start power-wise," Britt said. "I wanted to get out and be aggressive on finals day."
"If you would have asked me in September or right before the season, I didn't expect to even break the record. Coming into NCAAs and breaking it twice in that same meet is mind-blowing."

Jamal Britt
In the final March 13, Britt was more aggressive. Although it wasn't particularly a quick start, he was still in the thick of the race and Britt made a move between hurdles 2 and 3 and hurdles 3 and 4. Woody thought he caught LSU senior Damion Thomas at the lean, but the finish line camera gave Thomas a slight nod at 7.51 seconds. Britt was runner-up and reset his school record in 7.52.
"If you would have asked me in September or right before the season, I didn't expect to even break the record," Britt said. "Coming into NCAAs and breaking it twice in that same meet is mind-blowing."
In a Hawkeye program known for its elite hurdlers, Britt's 60 hurdles finish at nationals is the highest in program history.
"It was impressive to see the way he came out, even being a little behind at the first hurdle," Woody said. "He kept his composure, ran his own race and competed all the way to the finish line."
The previous 60 hurdles school record of 7.60 was set by teammate Jaylan McConico last season and tied by Britt at the Hawkeye B1G Invitational on Feb. 12 in the University of Iowa Recreation Building. That time was the fastest heading into the Big Ten Championships, but Britt came out of the rough finals race without a medal. Still, the Hawkeyes won the men's team title by 27 points, eliminating some of the sting.
🥈 SILVER MEDALIST 🥈

Jamal Britt (@JRBritt28) broke his own 60m-hurdle school record on Saturday, clocking a time of 7.52 to win the silver medal at the NCAA Indoor T&F Championships.

It is the highest 60m-hurdle finish in @IowaXC_TF history. pic.twitter.com/kKme8KoeiN

— The Iowa Hawkeyes (@TheIowaHawkeyes) March 15, 2021
"Coming into NCAAs, I had another meet and I had to stay positive," Britt said. "This is a bigger meet than Big Tens. We won a Big Ten (team) championship and I was happy about that, but coming into NCAAs, I was ready to do whatever to compete."
"He is a big team guy and he was happy for his teammates at Big Tens, even though he was down because he expected to win (the 60 hurdles)," Woody said. "Maybe that lit a little more of a fire heading into the national meet."
That fire is expected to burn through the outdoor season, where it has been two years since the Hawkeyes last competed. The hurdle distance moves from 60 meters to 110 and 400 meters. McConico has an outdoor season remaining. So does Britt, who is expected to compete at both the 110 and 400 distances.
"I have a lot of confidence and just believing in myself in general," Britt said. "I'm excited to go out and compete."