BLOOMINGTON, Indiana — Following a nearly two-year absence from outdoor competition, the University of Iowa track and field team exploded back on the scene at the Big Ten Invite #1, winning 13 gold medals and shuffling the school's the all-time top 10 list Saturday at the Billy Hayes Track & Field Complex.
"It was a great opening meet for both the men and women," said Iowa director of track and field Joey Woody. "It was just great to compete outdoors for the first time in nearly two years."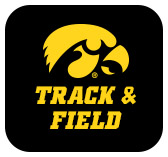 Eight Hawkeyes climbed the all-time top 10 list, starting Saturday in the hammer throw where Allison Wahrman and Amanda Howe led the women finishing first and second. Wahrman's mark of 60.45 meters is a career best and currently ranks fourth all-time in program history. Howe's mark of 60.02 meters is also a career best and is sixth all-time. Erika Hammond finished sixth with a new career best of 52.20 meters.
"Allison had a huge breakthrough winning the hammer throw," said Woody. "She has come a long way from starting out as a heptathlete and triple jumper to a 60-meter-plus in the hammer. Going 1-2 with Amanda is a great sign of what we can do in that event this year."
Tyler Lienau led the way for the men, finishing second in hammer with a career best 58.25 meters, a mark that ranks ninth all-time in program history. Jordan Johnson was close behind in third place with a career best throw of 56.32 meters. Johnson's toss ranks 10th on the all-time list.
Both men's and women's 4×100 relay teams finished second with times of 39.85 and 46.45. The men were led by the quartet of Jaylan McConico, Antonio Woodard, Austin Kresley, and Gratt Reed. The women were led by Antonise Christian, Tionna Tobias, Courtney Strohman, and Tia Saunders.
Jenny Kimbro won the 100 hurdles, leading a podium sweep for the Hawkeyes with a time of 13.46. Tobias was close behind in second place with a career best of 13.58. Myreanna Bebe finished third with a time of 13.83.
"We got off to a good start in both 4×1 relays, earning runner-up in both genders," said Woody, "and then watching Jenny lead a 1-2-3 sweep in the hurdles was fun to see."
In the men's 110 hurdles, the Hawkeyes took five of the top six places, led by Jamal Britt's winning effort in a career-best 13.68, a time that puts him sixth all-time in program history. Gratt Reed finished third with a career best time of 14.07. Jaylan McConico and Josh Braverman finished fourth and fifth with times of 14.10 and 14.18. Grant Conway and Will Daniels recorded career-best performances with times of 14.28 and 14.51 to finish sixth and ninth.
"Unfortunately for the men there was a recall after the first start, but our guys didn't stop until around the seventh hurdle and Jaylan ran through the line," said Woody. "They lined it up again seven minutes later and raced again. Jamal came out with the victory but I think all of our guys are ready to run much fast in their next race."
Tionna Tobias finished second in the women's long jump with a career-best leap of 6.07 meters, a mark that ranks seventh all-time in program history. Eavion Richardson recorded a career best with a jump of 5.86 meters to finish seventh.
James Carter followed suit with a second-place finish in the men's long jump in a career best 7.70 meters. Carter's leap puts him seventh all-time in program history. Kaleba Jack and Will Daniels finished third and sixth with career bests jumps of 7.52 meters and 7.17 meters, respectively.
"The men and women did tremendous in the long jump with big PRs," said Woody. "It is great to see them starting off where they left off indoors."
Jordan Johnson won gold in the discus with a career best of 57.74 meters. Johnson's toss puts him seventh all-time in program history. Dawson Ellingson and Jordan Hawkins recorded career bests of 49.89 and 49.19 to finish seventh and eighth.
Laulauga Tausaga brought home a pair of gold medals, winning the women's discus and shot put with marks of 60.81 meters and 16.99 meters. Serena Brown won a silver medal in the discus with a toss of 57.15 meters, a mark that ranks third on Iowa's all-time top 10 list. Nia Britt finished third in the shot put with a toss of 15.99 meters. Ianna Roach recorded a career best in the shot put with a throw of 14.64 meters.
"The discus was a highlight event with the men and women winning both," said Woody. "Lagi and Serena had big opening marks and Jordan Johnson had a big collegiate best in his first outdoor meet at Iowa. I thought Tyler and Dawson had a great day today and will continue to build on those performances, and we had some big PR performance in women's shot."
In the men's 1,500 meters, the Hawks put five in the top seven, led by champion Tysen VanDraska who finished with a career-best time 3:47.81. Kal Lewis was next in fourth with a career best time of 3:49.44. Nathan Mylenek, Noah Healy, and Daniel Soto were next in at 3:50.41, 3:50.67, 3:50.68 to finish fifth, sixth, and seventh respectively.
"I was super proud of how our athletes competed this weekend, and in particular it was just exciting to see our fifth- and sixth-year super seniors get out and compete. The entire team performed exceptionally well, and things are only going to keep getting better."

Iowa director of Track & Field Joey Woody
Elyse Prescott led the way in the women's 1,500 meters, finishing sixth with a time of 4:33.88. Emma Gordon finished seventh with a career best 4:34.55. Katie Moore, Bryce Gidel, and Ellie Twedt also recorded career bests.
Austin Kresley continued his incredible freshman campaign winning the 100 meters in 10.44. Peyton Haack and Tanner Iske were next in 10.98 and 10.99 to finish fifth and sixth.
"I was very impressed with an opening meet PR for Austin," said Woody. "I am excited to see what he can do this season in that event."
Courtney Strohman won the 400 meters in her Hawkeye debut with a time of 54.47. Julien Gillum led the men, placing second with a time of 48.14. Nolan Kembel and Khullen Jefferson placed third in 48.15. Tyler Olson finished sixth in a career-best 48.30.
Tia Saunders and Spencer Gudgel won their respective 800 meter races with times of 2:11.66 and 1:52.96. Gudgel's time is a new career best. Aidan King recorded a career best, finishing eighth in 1:59.30. For the women, Elyse Prescott and Emma Gordon also recorded career bests of 2:17.36 and 2:17.83.
The Hawkeye got runner-up performances from Maria Gorhman and Zack Pluff in the high jump. Gorhman topped out at 1.66 meters and Pluff placed second at 1.95 meters.
In the women's 5,000 meters, Abby Ryon finished fourth with a career best of 17:58.37, and Wren Renquist finished fifth with a career-best 18:11.04.
Iowa won gold and bronze in the women's 400-meter hurdles. Mariel Bruxvoort won in 60.33, and Payton Wensel placed third in 61.91.
"Those were great performances, and it was fun to see Mariel win her first collegiate 400-meter hurdles in the first race of her career," said Woody. "Jenny Kimbro had a great race through nine hurdles but unfortunately got tripped up on the last hurdle and fell. She will be running 56-57 very soon."
Drake Woody led the Hawkeye men in the 400-meter hurdles, placing seventh in 54.26 in his collegiate debut. Nolan Roether placed 14th and Raymund Clarke started strong but did not finish.
"Raymund had a great race through six hurdles, but similar to Jenny, ran up on the seventh hurdle and tripped and fell. I think he was in great position to win the race," said Woody. "I thought Drake had a great first collegiate 400-hurdle race even though his rhythm was a little off. One he gets comfortable with his rhythm he will be running 51-52 very soon."
Jamal Britt placed third in the men's 200 meters with a career-best 21.22. Gratt Reed finished eighth with a career best time of 21.44. On the women's side of the 200 meters, Antonise Christian finished third with a time of 24.29.
Iowa finished the day with a gold medal in the men's 4×400 relay and a runner-up performance in the women's 4×400. The men recorded a time of 3:10.51 while the women finished in 4:40.84.
"It was great to end the meet with a close runner-up finish in the women's 4×4 and a win in the men's 4×4," said Woody.
"I was super proud of how our athletes competed this weekend, and in particular it was just exciting to see our fifth- and sixth-year super seniors get out and compete. The entire team performed exceptionally well, and things are only going to keep getting better."
BIG TEN INVITE #1 / HAWKEYE RESULTS
Friday Night:
Women's High Jump
2. Maria Gorham / 1.66m (5'5.25")
Men's High Jump
2. Zack Pluff / 1.95m (6'4.75")
6. Seth Groom / 1.81m (5'11.25")
Women's 5,000 Meters
4. Abby Ryon / 17:58.37 (PR)
5. Wren Renquist / 18:11.04 (PR)
Brooke Mckee / DNF
Saturday:
Women's Hammer Throw
1. Allison Wahrman / 60.45m (198'4") (PR) 4th all-time
2. Amanda Howe / 60.02m (196'11") (PR) 6th all-time
5. Nia Britt / 55.40m (181'9")
6. Erika Hammond / 52.20m (171'3") (PR)
8. Jamie Kofron / 49.20m (161'5")
10. Ianna Roach / 46.17m (151'6")
Men's Hammer Throw
2. Tyler Lienau / 58.25m (191'1") (PR) 9th all-time
3. Jordan Johnson / 56.32m (184'9") (PR) 10th all-time
7. Elijah Barnes / 44.25m (145'2") (PR)
Jordan Hawkins / FOUL
Women's Javelin Throw
6. Marissa Mueller / 38.64m (126'9")
7. Dallyssa Huggins / 38.46m (126'2")
Women's Long Jump
2. Tionna Tobias / 6.07m (19'11") (PR) 7th all-time
7. Eavion Richardson / 5.86m (19'2.75") (PR)
12. Kayla Hutchins / 5.60m (18'4.5")
Men's Long Jump
2. James Carter / 7.70m (25'3.25") (PR) 7th all-time
3. Kaleba Jack / 7.52m (24'8.25") (PR)
6. Will Daniels / 7.17m (23'6.25") (PR)
Women's 4×100 Relay
2. IOWA A (Christian, Tobias, Strohman, Roberts) / 46.45
Men's 4×100 Relay
2. IOWA A (McConico, Woodard, Kresley, Reed) / 39.85
Women's 1500m Run
6. Elyse Prescott / 4:33.88
7. Emma Gordon / 4:34.55 (PR)
17. Amber Aesoph / 4:46.54
19. Katie Moore / 4:51.62 (PR)
20. Bryce Gidel / 4:55.96 (PR)
22. Ellie Twedt / 5:01.65 (PR)
Men's 1500m Run
1. Tysen VanDraska / 3:47.81 (PR)
4. Kal Lewis / 3:49.44 (PR)
5. Nathan Mylenek / 3:50.41
6. Noah Healy / 3:50.67 (PR)
7. Daniel Soto / 3:50.68 (PR)
10. Jeff Roberts / 3:51.68
19. Jason Hoffman / 3:58.39 (PR)
20. Aidan King / 3:58.45 (PR)
24. Konnor Sommer / 4:04.75 (PR)
Women's 100m Hurdles
1. Jenny Kimbro / 13.46
2. Tionna Tobias / 13.58 (PR)
3. Myreanna Bebe / 13.83
11. Karina Joyner / 14.32
14. Sydney Winger / 14.42
15. Katie Petersen / 14.61
Men's 110m Hurdles
1. Jamal Britt / 13.68 (PR) 6th all-time
3. Gratt Reed / 14.07 (PR)
4. Jaylan McConico / 14.10
5. Josh Braverman / 14.18
6. Grant Conway / 14.28 (PR)
9. Will Daniels / 14.51 (PR)
Men's 100m
1. Austin Kresley / 10.44 (PR)
5. Peyton Haack / 10.98
6. Tanner Iske 10.99
Women's Discus Throw
1. Laulauga Tausaga / 60.81m (199'6")
2. Serena Brown / 57.15m (187'6")
8. Jamie Kofron / 46.64m (153")
9. Kat Moody / 46.43m (152'4")
Men's Discus Throw
1. Jordan Johnson / 57.74m (189'5") (PR) 7th all-time
3. Tyler Lienau / 54.99m (180'5")
7. Dawson Ellingson / 49.89m (163'8") (PR)
8. Jordan Hawkins 49.19m (161'5") (PR)
Women's Shot Put
1. Laulauga Tausaga / 16.99m (55'9")
3. Nia Britt / 15.99m (52'5.5")
4. Kat Moody / 15.66m (52'4.5")
6. Erika Hammond / 14.94m 49'0.25")
8. Ianna Roach / 14.64m (48'0.5") (PR)
11. Jamie Kofron / 13.57m (42'4")
Men's Shot Put
6. Dawson Ellingson / 16.66m (54'8")
Women's 400m
1. Courtney Strohman / 54.47
Men's 400m
2. Julien Gillum / 48.14
3. Nolan Kembel / 48.15
3. Khullen Jefferson / 48.15
6. Tyler Olson / 48.30 (PR)
9. Evan Shuster / 49.40
11. DeJuan Frye / 49.63
Women's 800m
1. Tia Saunders / 2:11.66
4. Logan Akason / 2:14.80
5. Lindsay Welker / 2:15.29
7. Elyse Prescott / 2:17.36 (PR)
10. Emma Gordon / 2:17.83 (PR)
Amber Aesoph / 2:24.27
Bryce Gidel / 2:28.17 (PR)
Men's 800m
1. Spencer Gudgel / 1:52.96 (PR)
4. Jeff Roberts / 1:55.85
5. Nathan Mylenek / 1:55.90
7. Noah Healy / 1:57.32
8. Aidan King / 1:59.30 (PR)
9. Kal Lewis / 1:59.66
Bryson Armando / DNF
Women's 400 Hurdles
1. Mariel Bruxvoort / 60.33 (PR)
3. Payton Wensel / 61.91
7. Karina Joyner / 63.34
12. Jenny Kimbro / 67.01
Men's 400 Hurdles
7. Drake Woody / 54.26
14. Nolan Roethler / 58.98
Raymund Clark / DNF
Women's 200m
3. Antonise Christian / 24.29
8. Tionna Tobias / 24.70
12. Courtney Strohman / 25.34
15. Katie Petersen / 25.99 (PR)
16. Kayla Hutchins / 26.27 (PR)
18. Myreanna Bebe / 26.36 (PR)
22. Sydney Winger / 26.89
Men's 200m
3. Jamal Britt / 21.22 (PR)
8. Gratt Reed / 21.44 (PR)
13. DeJuan Frye / 21.74
14. Evan Shuster / 21.93 (PR)
20. Josh Braverman / 22.44
22. Tanner Iske / 22.51 (PR)
Women's 4×400 Relay
2. IOWA A Bruxvoort (55.63) Kimbro (54.93) Saunders (54.39) Wensel (55.50) / 4:40.84
7. IOWA B Welker (58.02) Joyner (58.64) Huggins (58.57) Moore (58.93) / 54.48
Men's 4×400 Relay
1. IOWA A Kembel (47.9) Woody (48.5) Gillum (46.9) Olson (47.0) / 3:10.91
5. IOWA B Gudgel (48.7) Britt (48.5) Clarke (48.0) Bryson (47.8) / 3:13.48
9. IOWA C Haack (49.5) Roethler (49.5) Hoffman (50.1) Daniels (49.7) / 3:19.31