By DARREN MILLER
hawkeyesports.com
IOWA CITY, Iowa — Growing up in Corby, England, Joe Tyler had a dream.
"Get to the United States some place, somehow," the University of Iowa senior said.
Tyler made it to Iowa City, Iowa — the heartland of the United States — and he came bundled with friend and fellow Englishman, Will Davies.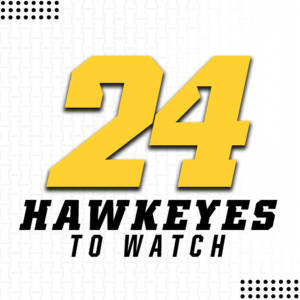 "It was the right move," Tyler said. "For tennis, [college] is that steppingstone where you're not ready to turn pro, but it is a good amount of time to improve your game, mature, develop and get a good education. I have done all those things and I have gotten what I wanted out of it. It has been a good platform for me to keep improving."
An enterprise leadership major, Tyler could have another year of tennis eligibility, but his future on the court is uncertain. Because of budget restrictions caused by the coronavirus pandemic, the University of Iowa will discontinue its men's tennis program following the 2021 spring season. Iowa is 4-10 on the season with the Big Ten Championships scheduled for April 29-May 2 in Lincoln, Nebraska.
The final home match will be April 11 against Northwestern.
"It will be a sad one," Tyler said. "There have been a lot of memories here I will never forget. It has gone by so fast I can't believe it is actually happening. I feel I was playing my first match of my freshman year just a week ago."
Tyler's freshman season was 2018 when he went 19-17 in singles (7-3 at No. 4) and 17-10 in doubles (13-8 at No. 3). Iowa head coach Ross Wilson realized early on that Tyler was an interchangeable piece when it came to making out the Hawkeye doubles lineup.
"He has played with three or four different partners," Wilson said. "When he has been here, he has always been successful. On top of that, he has matured and grown into a leader on our team."
As a sophomore in 2019, Tyler played as high as No. 2 singles and finished with an overall record of 18-18. He was 16-13 in doubles. During the pandemic-shortened 2020 season, Tyler finished 11-11 in singles (5-2 at No. 3) and 13-7 in doubles.
"There have been a lot of memories here I will never forget. It has gone by so fast I can't believe it is actually happening. I feel I was playing my first match of my freshman year just a week ago."

Joe Tyler
There have been several career highlights, including a 4-1 win over No. 19 Michigan in 2019 (Tyler won at No. 5 singles and paired with Nikita Snezhko to win at No. 3 doubles), a 4-3 win at No. 14 Dartmouth in 2018 and a 4-3 win over Drake in 2019 when Tyler provided a match-clinching victory.
"We hadn't beaten Drake in seven years and when we beat them at our place and I got to clinch that match, that was definitely an everlasting memory," Tyler said. "They all will be memorable, it has been a great experience here."
An elementary teacher with a good eye is responsible for Tyler's introduction to tennis. After watching the excellent hand-eye coordination of a 6-year-old Tyler, she recommended he participate in a racquet sport. He hit it off with tennis at a summer camp at a local club and became more serious as the years went by. When Tyler was 12, he chose tennis over soccer and he hasn't looked back.
Before coming to the University of Iowa, Tyler combined to win 78 matches on the junior circuit (33-15 in singles, 45-10 in doubles). Tyler and Wilson connected via Facebook Messenger and then Wilson watched Tyler compete in tournaments in England and Portugal.
"He was a highly-recruited and very successful junior," Wilson said. "He knew how to win and there were a lot of positives with his game."
Tyler teamed with Davies to play tournaments around the world from 2014-16. They are two of five Iowa men's tennis student-athletes from England.
"We can't get rid of each other," Tyler joked about his former housemate at Culford School in Bury St. Edmunds, England. "Not a lot of tennis programs have scholarship space for two players, but we always wanted to stay together."
The Hawkeyes put together winning seasons in each of Tyler's first three seasons. They were 16-15 in 2018, 18-10 in 2019 and 12-2 in 2020.
Wilson says Tyler has grown every season from a leadership perspective and is one of the leaders in practice, matches and off the court. Becoming an All-Big Ten player is not out of the question, Wilson said.
"(Joe) could be a big piece of a team that could make a run to the NCAA Tournament and also at the Big Ten Championships," Wilson said.
As Tyler's career winds down, he says personal goals are not as important as team goals. It really is as simple as continuing to win for the Hawkeyes.
"Making NCAAs and trying to win as many matches as we can in our last season," Tyler said. "If I focus on myself and the guys focus on themselves, then the team will get where it needs to be."
In his final season as a Hawkeye, Tyler has a record of 7-6 in singles and 6-6 in doubles.