By DARREN MILLER
hawkeyesports.com
IOWA CITY, Iowa — It is something University of Iowa junior Stewart Brown has done numerous times since he started gymnastics as an 18-month-old.
Nearly 20 years later, during his final competition inside Carver-Hawkeye Arena, Brown's performance on his specialty vault unfolded like this: he sprints down a carpeted runway, explosively hurdles onto a springboard and twirls (seemingly) effortlessly in the air. What happened next is a real bell-ringer.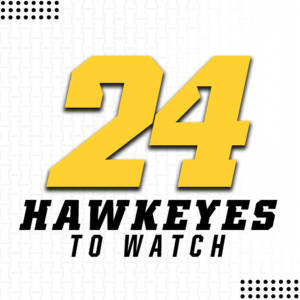 A stuck landing led to a career-best score of 14.900. A landing like that during a home meet merits a trip to a large bell on the floor of Carver-Hawkeye Arena, where Brown gave it a hearty celebratory ring.
"I feel I conquered a feat of my lifetime," Brown said. "So many of those vaults, thousands of those vaults and not so many of them sticking. You have less than 50 chances in competition to stick it in a meet — to do that felt good. To have my team there to cheer me up, hype me up and make me feel good about it made it more special."
The eighth-rated Hawkeyes upset No. 4 Nebraska, 406.700-406.650.
"This year the team is focused on anchoring down and getting after it, not riding out through postseason," Brown said.
Brown aims for perfection less than before, which ironically has brought him closer to perfection than ever before. He says his perception has changed since the announcement in August that Iowa would drop its men's gymnastics program at the end of the 2021 season. That has led to Brown's newfound perspective of being loose, happy and having fun.
"I'm not as focused on being perfect. I'm having fun and letting my training do the talking and performing for me," Brown said. "Now it's about creating those memories I will have for the rest of my life."
A native of Taylorsville, North Carolina, Brown's score on the vault against Nebraska topped his previous best of 14.650 set March 6 against Michigan. Both scores are better than the 14.625 he earned while placing third at the Big Ten Championships in 2019. In fact, Brown is on a roll in other areas of his gymnastics as well. In the dual against the Cornhuskers on March 20, he won the vault and was fourth in all-around (79.500).
"I feel I conquered a feat of my lifetime...To have my team there to cheer me up, hype me up and make me feel good about it made it more special."

Stewart Brown
"It has been three years of struggle and adversity and Stewart has really come into his own this year," Iowa head coach JD Reive said. "His training has been great and he has stepped into a leadership position. He is having a positive impact on the team and he is doing as well as he has ever done."
Brown's sister, Mattie, was involved in pageants and picked up gymnastics when Stewart was 1 ½-years old. Stewart was at the gym anyway, so he started gymnastics as well, first with Mommy and Me classes, then pre-school classes, then participating competitively when he was 5. He and club coach Shawn Bryant were together from the beginning.
"We knew if we could get to clinics, we could take advantage of a lot of good people's knowledge and we used that," Brown said. "It is cool that two people who didn't necessarily know a ton could turn out something like me. We started from the bottom and worked our way up."
Like most prospective college gymnastics, Brown began sending emails to every program in the nation. After suffering a serious injury as a junior at Alexander Central, the email replies slowed to a near standstill. Except those from Iowa assistant coach Tom Buese.
"Iowa was the only school — and specifically Tom was the only person — to continue talking to me and checking on my recovery," Brown said. "When it came down to it, I wanted to go somewhere where I mattered to them. Tom showed that I would matter at Iowa."
As a freshman at Iowa in 2019, Brown competed on vault and parallel bars. To go with his Big Ten bronze medal in the vault, he earned All-America honors by placing seventh on parallel bars (13.800) at the NCAA Championships in Champaign, Illinois. Brown participated in five competitions as a sophomore in 2020 until the coronavirus pandemic forced a cancelation of the season in March. That gave an injured ankle time to get the attention it needed. In June, Brown was cleared for surgery.
"Everything went well," he said. "My health has a lot to do with my success this year. I don't have anything distracting me from doing what I need to do to be successful."
Iowa finished its dual season 4-2, 3-0 at home. The NCAA Championships is April 16-17 in Minneapolis, and as the Hawkeyes spring into the postseason, Reive sees Brown as an All-American in the vault and parallel bars.
Brown, who is coming off a successful Big Ten Championships where he earned a bronze medal on parallel bars, is looking toward squad goals.
"We have talented guys on the team," he said. "I think we can make finals for NCAAs and go to Day 2 that we haven't done as a team in a couple years. Making those team memories is going to be what I want to go out on."
With nothing to lose, Brown sees Iowa's puzzle pieces fitting together at the right time. If he is correct, it will be a bell-ringing conclusion for the University of Iowa men's gymnastics program.