DES MOINES, Iowa — University of Iowa junior Jamal Britt earned a bronze medal in the 110-meter hurdles Saturday in the "Journey to Gold" event at the 2021 Drake Relays. Britt crossed the finish in 13.45, topping his previous career best by .07 seconds and moving from third to second on Iowa's all-time top 10 list.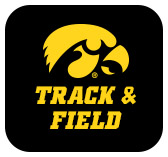 Aaron Mallett, a former Hawkeye All-American and Iowa's school record holder, earned a silver medal in the race, finishing in 13.41. Iowa senior Jaylan McConico finished fifth, running a career-best 13.56. The United States' Daniel Roberts, ranked eighth in the current world rankings, won the race in 13.39.
"I'm very excited with how well Jaylan and Jamal competed today," said Iowa director of track and field Joey Woody. "To have three Hawkeyes, including Aaron Mallett, in the top five at a major World Athletics meet speaks to how good those guys are. I believe they are just starting to race into form as we build into the championship portion of our season. I think today's success will add a ton of confidence for all of them. I cannot wait to see what Jamal and Jaylan will do in the coming weeks."
HAWKEYES IN CHAMPAIGN
Iowa's men's and women's high jump squads competed Saturday at Day 2 of the Fighting Illini Big Ten Relays.
Dallyssa Huggins brought home the silver medal on the women's side with a jump of 1.70 meters. Maria Gorham finished 10th with a jump of 1.65 meters.
Zack Pluff led the way for the men, finishing fourth with a career best jump of 2.08 meters. Cole Moeller placed 11th with a jump of 1.93 meters.
UP NEXT
The University of Iowa track and field team travels to Bloomington, Indiana, to compete at the Billy Hayes Invitational on May 1.
DRAKE RELAYS RESULTS
Men's 110 Hurdles:
2. Aaron Mallett / 13.41
3. Jamal Britt / 13.45 (PR) 2nd all-time
5. Jaylan McConico / 13.56 (PR)
CHAMPAIGN RESULTS
Men's High Jump Open:
4. Zack Pluff / 2.08m (PR)
11. Cole Moeller / 1.93m
Women's High Jump Open:
2. Dallyssa Huggins / 1.70m
10. Maria Gorham / 1.65m