IOWA CITY, Iowa – Ray Robinson has joined the University of Iowa track and field coaching staff, Iowa director of track and field Joey Woody announced Wednesday. Robinson will lead Iowa's throws group.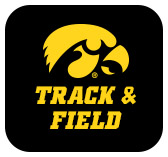 Robinson joins the Hawkeyes following an 11-year stint as associate head coach at Tiffin University in Tiffin, Ohio. Robinson coached both the men and women at Tiffin University. His student-athletes captured four NCAA Division II national championships and five NCAA silver medals. He coach 40 first-team All-Americans and saw the school record in each of Tiffin's 12 throwing events broken during his tenure.
Tiffin won two national titles and has captured seven trophies at the NCAA Championships since 2015.
"We are extremely excited to welcome Ray, Kristen and their young family to the University of Iowa," Woody said. "Ray has done a tremendous job developing the throws program at Tiffin University, turning the Dragons into a DII national power in 11 seasons. He knows how to recruit and develop athletes in every throws event. He has an energetic personality and is very motivated to get started with our talented group of throwers. I cannot wait for him to join our staff and continue to take our throws program to the highest level."
"I am thankful for the opportunity to join the University of Iowa and be a part of the winning culture that Coach Woody and the entire coaching staff has built," Robinson said. "Coach (Eric) Werskey did a great job recruiting talented, hard-working individuals to Iowa's throws group and I am excited to hit the ground running and build on the success going on here in Iowa City. The coaching staff, university administration and members of the community have welcomed my family with open arms throughout the entire process. I cannot wait to raise my girls in Iowa City and get to work with the team."
On the senior level, Robinson has worked extensively with John Godina, a four-time world champion, Olympic medalist and holder of the NCAA Championships shot put record. He coached three-time NCAA DII national champion Coy Blair at the 2016 U.S. Olympic Trials and the 2017 World University Games, and Adriane Blewitt at the 2012 Olympic Trials.
Robinson is a two-time graduate of Tiffin University. He earned his Bachelor of Business Administration in 2010 and his Master of Business Administration with a concentration in Human Resources in 2015. He previously held the TU school record in the discus throw and is on the top-10 performance list in hammer throw and weight throw. He is a three-time All-GLIAC honoree and was selected to the GLIAC All-Academic team four times while twice earning Academic All-America honors.
Robinson is married to Kristen Robinson, a former All-American shot putter for the Dragons and TU Hall of Fame inductee. Ray and Kristen have three daughters, McKenzie Jo, Jordy Rae and Emileigh James.