IOWA CITY, Iowa – The Big Ten champions are back and preparing for a title defense in their new home.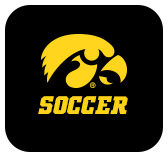 The University of Iowa soccer team, champions of the 2020-21 Big Ten Tournament, were welcomed to Iowa City on Monday and introduced to the Iowa Soccer Operations Building, a multi-purpose facility located just steps away from the Hawkeyes home field.
"There are no words," said senior Grace Necker. "I think they did a great job. From the layout to thinking of anything we could possibly need within our fingertips. It was really crazy to a walk out here for the first time and see it completely finished."
Iowa head coach Dave DiIanni first envisioned a single, functional space when he was hired at Iowa seven years ago. He dreamed of building a home for the program, one that connects past, present and future Hawkeyes. And even though the players aren't moving into the new building until the eve of his eighth season, the transformation happened seemingly overnight. DiIanni and the Hawkeyes broke ground on the new facility only nine months ago.
"There has been so much hard work put into this building by everybody," said DiIanni. "Fundraising, athletics, generous donors, campus development; there have been a lot hands that have gone into getting this to be here today. It doesn't seem real, to be honest."
The Iowa Soccer Operations Building includes spacious locker rooms and a lounge/team room. A multi-purpose room overlooks one of the best soccer fields in the Big Ten and creates a space for the team to enjoy pregame and postgame meals, watch film, study and socialize. An athletic training room on the ground level allows student-athletes to receive treatments from sports medicine staff, and additional amenities include a coaches' offices, visiting team locker room, press box and storage space.
"This entire facility is breathtaking," said senior Jenny Cape. "Our entire soccer career can be held in this one building. It is really impressive and it makes being a Hawkeye and a soccer player at Iowa so much more. It's an incredible experience."
The official start of the fall 2021 season begins with practice Tuesday morning. The "home sweet home" feeling maybe a few days away, but it's coming.
"It feels like we're in someone else's facility," said junior Samantha Cary. "It is so phenomenal to know that this is our new home. Dave was really going into detail about the specialness of that locker room, not just to the current team but to past teams.
"Each of our lockers is going to be sponsored by an alum and that means so much to know that the Hawkeye community and the soccer community isn't just about the four years that you're actually in the uniform, but includes the time beyond. It shows that the time you put in is going to be remembered for years to come. This is about Hawkeye soccer and not just 2021. It is so great to know the foundations of everything this is getting built on."
DiIanni says there are more surprises to come. While the bones of the building are ready for use, the decorating is only in the infancy.
"I am really excited to see them use the building every day," said DiIanni. "I think it's going to be put to good use this preseason and every day we're going to find new uses for it. We haven't put any graphics up for alumni and pros and donors. I think in the next two to three weeks you're going to see a lot of changes to the building which will continue the new fresh feel."