IOWA CITY, Iowa – The University of Iowa soccer team defeated Northern Iowa, 1-0, in an exhibition match on Friday night at the Iowa Soccer Complex.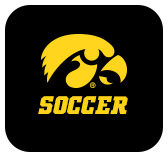 Freshman Kenzie Roling rocketed the only score of the night on a first half penalty kick. The score was Roling's second of the season. The previous goal came in the final minute of last weekend's exhibition against South Dakota.
"You saw individual improvement across the board," said Iowa head coach Dave DiIanni. "It was nice to get Sara [Wheaton] back. I thought Alyssa Walker and Courtney Powell had good games. We're starting to kind of figure out how we want to play in the system, and it was nice to see Kenzie Roling getting on the board again.
"I think at the end of the day, we've created some really good chances. Eight corners is going to win you a lot of games. We have got to focus on the final third, the details of scoring goals. I thought we missed a lot of really good chances today.
"We have really tough opening games at DePaul and Saint Louis. We have six (days) to get people a bit more fit and a bit more comfortable with how we want to play. One of the best things is that we didn't give a goal in our two exhibition games. I think that that has to be our identity like it was in the spring."
With a pair of exhibition wins in the books, the Hawkeyes kick off the regular season Thursday at DePaul. Game time is set for 4 p.m. (CT) at Wish Field in Chicago, Illinois.