IOWA CITY, Iowa – The University of Iowa soccer team tied Mississippi State in a 1-1 overtime battle on Sunday afternoon at the Iowa Soccer Complex.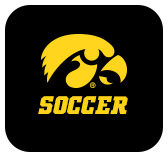 The Bulldogs scored off a header from midfielder Hannah Telleysh in the 37th minute of play to take a 1-0 lead that would hold for most of the game. However, an aggressive Hawkeye attack saw Iowa outshoot Mississippi State, 19-1, in regulation, an approach that paid off with nine minutes to go when Addie Bundy found Alyssa Walker for a header goal of Iowa's own off a corner kick.
"The goal was exciting," says Walker. "We had one corner that came and I barely missed it and thought to myself after we got a replay that this was my chance. It's now or never. Seeing that perfect flighted ball by Addie come in, finding it and seeing it roll down the back of the net is exciting in any game, especially when we were down a goal. It felt really good to get a header off a corner."
The defensive dogfight held firm from there, as the first ever meeting between the Bulldogs and Hawkeyes ended in a draw.
HEAR FROM HEAD COACH DAVE DIANNI
"They are disappointed and that is ultimately the emotion I expect from them. I'm happy that they're a bit disappointed. I thought they played very well. They are disappointed in the result. You have to play 110 minutes against a team you probably should have put away earlier in the day and end in a tie. These are the lessons this team is learning. I thought we played really well defensively. We followed the scout and created a lot of chances. Fourteen saves on 19 shots, and that's not counting the four or five that went over the bar. They learned they have the potential to be a pretty good team and they have to put teams away when they have opportunities."
HAWKEYE NOTABLES
Iowa outshot Mississippi State 19-3 on the afternoon. The Hawkeyes took 15 shots on goal compared to two from the Bulldogs, and also led in corner kicks on the day (7-2).
Walker's goal was her fourth of the season, tying Kenzie Roling for the team lead.
Freshman Addy Bundy picked up her third career assist; only Hailey Rydberg has registered more assists on the year (five).
90 TRACKER: Five Hawkeye position players registered at least 90 minutes in today's game. They include Sara Wheaton (five), Rielee Fetty (five), Samantha Cary (four), Addie Bundy (two), Olivia Hellweg, and Kenzie Roling.
UP NEXT
Iowa travels to Kansas City, Missouri, on Thursday to take on UMKC at Durwood Stadium. Kickoff is set for 7 p.m. (CT).