WEST LAFAYETTE, IND. – The University of Iowa soccer team dropped a hard-fought, 2-1, overtime match at Purdue on Sunday. The Hawkeyes move to 1-2 in conference play and 7-3-1 on the year.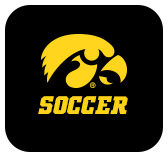 It was a defensive duel in West Lafayette until a flurry of scoring erupted in the final minutes of regulation. Hawkeye senior forward Alyssa Walker opened things up in the 87th minute, streaking down the field and making the keeper miss for a clutch go-ahead goal in transition.
The Boilermakers' offense answered Walker's goal three minutes later, tying the game when All-Big Ten second team honoree Sarah Griffith found the net in the 90th minute.
The response pushed the game into overtime, and a goal by Purdue senior Teagan Jones eight minutes into the first overtime period ended the match and secured the Boilermaker comeback.
HEAR FROM HEAD COACH DAVE DIANNI
"I am so proud of our team and the way we played against a very good Purdue side, who's having a great year. Gutted for the ladies that the result was in our grasp and unfortunately we didn't do enough to control the three points with our controllable details. We continue to grow and get better from this adversity and will be prepared to play next weekend at
HAWKEYE NOTABLES
Alyssa Walker's goal makes the fifth-year senior Iowa's leading scorer on the season. Walker leads the Hawkeyes with five goals and 10 points.
The Hawkeyes and Boilermakers each took 17 shots on the afternoon; however, each team only registered three and five shots on goal, respectively.
90 TRACKER: Sara Wheaton (10), Rielee Fetty (seven), Samantha Cary (six), Addie Bundy (three), and Riley Whitaker each played at least 90 minutes of Sunday's game. Nine total Hawkeye position players have registered at least 90 minutes in a game so far this season. They include Olivia Hellweg (two), Aleisha Ganief, Courtney Powell, and Kenzie Roling.
UP NEXT
The Hawkeyes look ahead to a two-game homestand. Iowa hosts Maryland on Thursday, Sept. 30, at 7 p.m. in Iowa City. Then, Michigan State comes to town on Sunday, Oct. 3, for a 1 p.m. game at the Iowa Soccer Complex.