IOWA CITY, Iowa – The University of Iowa soccer team picked up its second Big Ten Conference win of the season, downing Maryland, 2-0, on Thursday night at the Iowa Soccer Complex. The Hawkeyes are 2-2 in Big Ten play and 8-3-1 overall.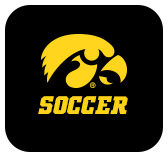 Captain Hailey Rydberg knocked in the first score in the 34th mark off an assist from freshman Addie Bundy to give Iowa a 1-0 lead heading into halftime. From there, the Hawkeye defense held firm, allowing just seven Terrapin shots in the contest.
Goalkeeper Monica Wilhelm made four saves in the game en route to her fifth shutout of the season.
Senior Alyssa Walker put the game away in the 85th minute.  Senior Sara Wheaton played a ball to Walker, who put away the shot into the far corner for her team-leading sixth goal on the year.
HEAR FROM HEAD COACH DAVE DIANNI
"This team has had a year's worth of adversity in two months, and I'm so proud of their commitment to grow and get better every day.
"Alyssa Walker can create chances on her own. She's a goal scorer, and like any goal scorer when you are starting to feel good about yourself the net looks wide open. She's feeling good, she has been playing well. She scored against Purdue and scored again tonight. Our team thrives off her success."
IHAWKEYE NOTABLES
With the score, Walker leads the Hawkeyes with six goals and 12 points.
The Hawkeyes are undefeated in their last 29 games when scoring two goals or more. Since the start of the 2018 season, Iowa has a record of 28-0-1 when scoring two goals or more. That includes a 7-0 record in 2021, 2-0 in 2020, 13-0-1 in 2019 and 5-0 in 2018. The Hawkeyes won their final two games in 2017 when scoring two-plus goals. The last time Iowa lost a game while netting at least two goals was Oct. 1, 2017, at Michigan State (L, 3-2).
90 TRACKER: Sara Wheaton (11), Rielee Fetty (eight), Samantha Cary (seven), Addie Bundy (four), Riley Whitaker (two), and Miah Schueller each played all 90 minutes of Thursday's game. Ten total Hawkeye position players have registered at least 90 minutes in a game so far this season. They include Olivia Hellweg (two), Aleisha Ganief, Courtney Powell, and Kenzie Roling.
UP NEXT
The Hawkeyes return to action Sunday, hosting Michigan State at 1 p.m. (CT) at the Iowa Soccer Complex.